Movie Reviews
It's been decades since the magical nanny Mary Poppins's (Emily Blunt) first visit to the Banks family nursery. Now, many years later, with hardship knocking, the door is opened and her return is welcomed just the same, may the magic continue.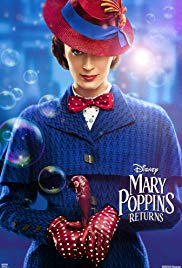 Written by David Magee and Directed by Rob Marshall the fine folks over at Disney have put together what would appear to be the perfect shelf mate to the original Mary Poppins (1964). Through and through there's a hefty dose of classic Poppins DNA infused into every nook and cranny of this newer incarnation and the end result is nothing shy of magic. With art direction, animation, musical numbers, and choreography that all sit right at home with a modern twist and the stellar performances from Blunt and her co-star Lin-Manuel Miranda as the lovable lamplighter/chimney sweep Jack, it's memory material to slide up easily alongside the warm fuzzy spot in your brain. Negative criticisms cast aside, family friendly and full of fun, this is a must see! Mary Poppins Returns is rated PG.
Comments Off

on Mary Poppins Returns
Arthur Curry (Jason Momoa), born to a human father and Atlantian mother (Nicole Kidman) learns that he is the heir to the underwater kingdom of Atlantis. Despite Arthur's place of power, brother Orm (Patrick Wilson), sees the throne as his and the stage is set for battle while brother vs. brother square off; meanwhile, the mysterious Mera (Amber Heard) works in mysterious ways to ensure Arthur learns the ropes of life underwater, but wait, there's more, ever lurking Black Manta (Yahya Abdul-Mateen II) will also have his due, will Arthur ever stand a chance to become Aquaman at all?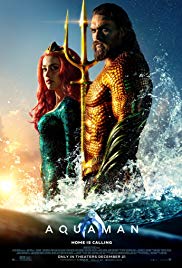 Directed by James Wan and written by an army of writers this incredibly dense narrative that runs two hours and twenty three minutes is a classic example of what happens when screenwriters attempt to shoehorn an impossibly large foot into an incredibly small and delicate glass slipper hoping to result in something that doesn't appear to be boxed meat, it does, believe me, it does. To Wan's credit, he somehow manages to wrap his arms around the entire squidly beast and bring it into some form of submission, but not before our brains are burned out by too many water kingdoms, centers of the earth, dino-slee-stak creepers, octopuses playing drums and so on. There's simply too much going on, coupled with a number of questionably bad editing choices and CGI abominations to render Aquaman something that should perhaps stay locked away in Davey Jones's locker. Bubble Bubble Bubble. Aquaman is rate PG-13.
Beaten within an inch of his life, a wildly talented artist, Mark Hogancamp (Steve Carell) gains the mental strength to overcome his greatest fears and anxieties through artistic expression, more specifically, action figures posed in an imaginary WWII Belgian village known as Marwen. In Marwen, Mark's closest friends, confidants, and protectors are all women, which happen to also be women of significance in Mark's real life (Leslie Mann, Janelle Monae, Stefanie von Preteen, Merritt Wever, Leslie Zemeckis, and Eiza Gonzalez). It'll take the power of his strong women to pull him through his darkest hours, will he ever manage?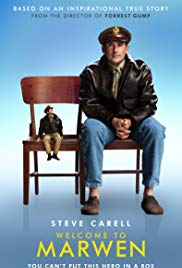 Written by Robert Zemeckis and Caroline Thompson and Directed by Zemeckis, this visually compelling re-enactment and embodiment of life with PTSD from the artist's perspective makes for an interesting and endearing case study of the human mind. However, past the first act and the film's initial shock and awe of transitioning from Marwen to the real world and back, somehow the magic seems to run out leaving our female heroes to sit in their archetypes and do relatively little, and likewise Hogancamp just as enigmatic as ever, bummer. What initially appears to be something akin to Thurber's Secret Life of Walter Mitty sadly more so resembles a scribbled idea on a napkin needing further fleshing out and emotional development. Best considered a rental later. Welcome to Marwen is rated PG-13.
Comments Off

on Welcome to Marwen