Archive for August, 2009
Exploring the art of French cooking takes on a new meaning in the semi-biographical story of Julie (Amy Adams), a lowly office worker depressed with her life. When Julie decides to take on the task of cooking and blogging about every recipe in Julia Child's (Meryl Streep) cookbook over the course of a year, a new purpose in life is found. Weaving the lives of Julie and Julia the film details the unique journeys both women took to arrive at their own success.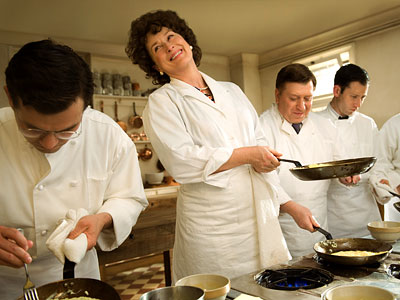 Delightful in it's whimsy, both lead women are fun to watch in this character study, but it's Streep's portrayal of Child that steals the show, almost to the point that a separate film about Julia could be justified. Rounding out the actors' ensemble Stanley Tucci and Chris Messina handle their supporting roles nicely. Again though Tucci's work as Paul Child seems more interesting and shines nicely in compliment next to the work of Streep. Perhaps a good date movie or matinee, Julie and Julia is rated PG-13.
Comments Off

on Julie and Julia