Archive for August 14th, 2009
Don "The Goods" Ready (Jeremy Piven), a born salesman, and his sales team are vigilante sales people, called in to assist in the liquidation of a failing auto lot. But will the crazy antics and high pressure sales techniques this team brings to the table be enough to save the family business of Ben Selleck (James Brolin)? And, will Don ever heal from the loss he experienced in Albuquerque?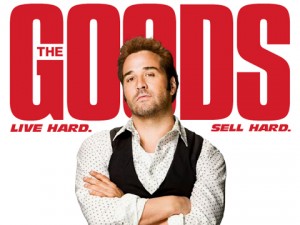 Fast talking and sometimes crude humor is the name of the game in this tongue in cheek look at the auto industry in small town America. While not really reaching the highest highs of comedy this summer, one could certainly do a lot worse. Performances from Ed Helms, Ving Rhames, and David Koechner don't hurt either, in fact, the star power of this film is surprisingly high, including a brief appearances of Will Farrell and Alan Thicke. Maybe a matinee but more likely a rental, The Goods is rated R.
Comments Off

on The Goods: Live Hard, Sell Hard
When Beth Buchwald (Rose Byrne) moves into a new apartment she takes interest in her odd but interesting neighbor Adam (Hugh Dancy). As the two begin to orbit each other it becomes apparent to Beth that Adam is quite different than other men, almost aloof, and difficult to grasp. Intrigued, she pushes forward and discovers Adam has Aspberger's syndrome, a disability on the scale of Autism. Despite the disability the two begin a relationship, challenging and learning from each other, but how will the two manage when Adam is forced to move across the country for work?
Adam is the second film written by writer and director Max Mayer and at times does feel a little clunky in it's message delivery despite Mayer's best intentions. Fortunately, Dancy and Byrne address their roles artfully, lending to an emotional experience with just enough humor to keep the levity of the film a positive experience. Probably best experienced as a matinee or a rental later, Adam is rated PG-13.
Exploring the art of French cooking takes on a new meaning in the semi-biographical story of Julie (Amy Adams), a lowly office worker depressed with her life. When Julie decides to take on the task of cooking and blogging about every recipe in Julia Child's (Meryl Streep) cookbook over the course of a year, a new purpose in life is found. Weaving the lives of Julie and Julia the film details the unique journeys both women took to arrive at their own success.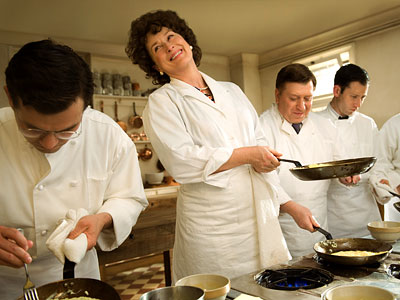 Delightful in it's whimsy, both lead women are fun to watch in this character study, but it's Streep's portrayal of Child that steals the show, almost to the point that a separate film about Julia could be justified. Rounding out the actors' ensemble Stanley Tucci and Chris Messina handle their supporting roles nicely. Again though Tucci's work as Paul Child seems more interesting and shines nicely in compliment next to the work of Streep. Perhaps a good date movie or matinee, Julie and Julia is rated PG-13.
Comments Off

on Julie and Julia