Archive for February 12th, 2010
Actor Lawrence Talbot (Benicio Del Toro) is called home when his brother's fiancee, Gwen (Emily Blunt), writes to tell of his brother's disappearance. Upon his return it becomes quite clear that supernatural forces are at work behind his brother's death as townsfolk and members of a neighboring gypsy camp are also dismembered and mutilated. While investigating the occurrences Lawrence is bitten by a wolf like beast responsible for the attacks. Now healed, by the next full moon, Lawrence learns of his new fate and curse, he too is now a wolfman/beast. But who was the original wolfman who bit him, what of his budding love for Gwen, and how will he evade the inspector Abberline (Hugo Weaving) from Scotland Yard?
Suspense, horror, and gore hit the bulls eye in this updated and artful  reltold tale of the original Wolfman from 1966. High caliber acting from all involved advances the plot nicely and keeps the viewer engaged from start to finish. Nicely done makeup blended with modern day CGI effects feels almost seamless. And, plenty of homage paid to werewolf films of the past will keep true horror buffs quite happy. Danny Elfman's masterful score also adds just the right amount of edgy ambience to complete the film. Horror fans, this is a must see. The Wolfman is rated R.
Comments Off

on The Wolfman
Love is in the air for Reed Bennett (Ashton Kutcher), the owner of a florist service in LA. Not only is it Valentine's day, it's also the day he proposes to his girlfriend Morley (Jessica Alba).  Meanwhile young and old alike discover and rediscover what it is to love and be loved. But while business is booming and love is blooming not everyone is celebrating, for Kelvin Moore (Jamie Foxx) and Kara Monahan (Jessica Biel) the holiday holds a completely negative connotation. Cupid on the other hand may have a more devious agenda. In the end, the question remains who will stay in love, who will let it pass them by, and who will take the plunge?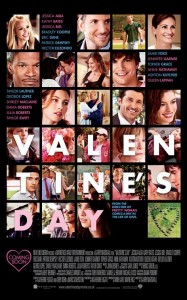 Multiple tales of love woven together with an extensive ensemble of actors including, Jennifer Garner, Bradley Cooper, Julia Roberts, Anne Hathaway, Patrick Dempsey, the list goes on and on. The star power alone of the film is enough to impress, and the story lines being told, while not entirely original, were crafted well enough to be entertaining. Hit and miss humor comes across as a win for the most part and the production value is decent. While this film won't be solving the world's problems or changing cinema history, as far as feel good romantic comedies go, it ain't half bad. A good matinee to take your sweetheart to this weekend. Valentine's Day is rated PG-13.
Comments Off

on Valentine's Day