Archive for March 5th, 2010
Thirteen years after her original experience down the rabbit hole, a now grown Alice (Mia Wasikowska) returns to Wonderland, meeting up with friends the Mad Hatter (Johnny Depp), the Cheshire Cat (Stephen Fry), and Tweedledee and Tweedledum (Matt Lucas). Whilst trying to remember specific details of the magical world Alice learns of her fate, to slay the Jabberwocky, overthrow the Red Queen (Helena Bonham Carter) and return power to the White Queen (Anne Hathaway).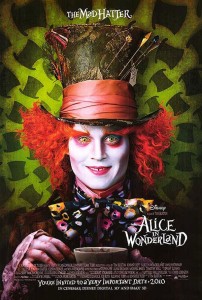 Based on characters from Lewis Carroll's books Alice In Wonderland and Through The Looking-Glass, this re-hashed coming of age tale directed by Tim Burton offers much of what we've come to expect from the director but not much more. Artistic and graphic direction of the film makes for an eyeful of visual candy that has been meticulously detailed. Unfortunately, the cast of Burton's usual suspects come across as relatively uninteresting  as the screenplay does little to capitalize on the wonder that is Wonderland. And, for as much as I generally enjoy Depp's character work, his portrayal of the Mad Hatter can perhaps be likened to a one note samba that we've already heard several times before. Furthermore, the musical score from Danny Elfman does little to inspire any sense of "new" which seems unusual since many of his recent works have been refreshingly different. Maybe worth a matinee for the family but more likely a rental later. Alice In Wonderland is rated PG.
Comments Off

on Alice In Wonderland