Archive for May 14th, 2010
Director Ridley Scott brings the latest re-telling of the tale of Robin Hood this weekend; this time offering the origins of Robin and his band of merry men. Told with selective historical accuracy the film begins in France with Robin Longstride (Russell Crowe), an archer in the army of Richard Coeur de Lion (Danny Huston), who returns England to tell of the king's death. Upon his return Robin travels to Nottingham to also make good on a promise made to a dying knight. When he arrives in Nottingham and reveals his identity to Sir Walter Loxley (Max von Sydow), Sir Walter makes in interesting proposition– assume the role of his son lost in battle,  in return he'll learn of his true past. To keep up appearances Robin is also to treat Marion Loxley (Cate Blanchett) as his wife. But, bigger forces are now at work as a group of Norman invaders are in England working to create civil war and weaken the English army. With a weakened army King Philip of France will then be able to overthrow the new tyrannical King John of England (Oscar Isaac). Perhaps Robin can be the uniting force to rally the country, but how will King John take to this natural leader and free thinker?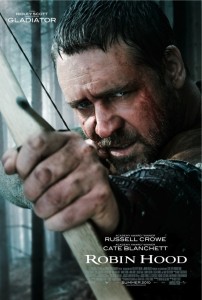 A fairly thick story that's a bit hard to follow with many moving parts seems to be the biggest downfall to what could be an interesting take on the legendary Prince of Thieves. It's as if there were so many ideas and sub-plots that needed to be told the writers just decided to put them all into a blender, hit frappe and pour them onto the page, a bit confusing to decipher to say the least. Meanwhile the acting is solid from all of the principals as one would expect, in fact Crowe, Blanchett, and von Sydow all hit home runs, it's just unfortunate they're given such cumbersome material to work with. Standard Ridley Scott close-up shakey cinematography for action scenes runs rampant through this film as well, except now, this just illicits a ho-hum instead of oh wow. A less imaginative score also seemed to detract from the film to boot, leaving this film feeling okay but not great. Maybe a matinee. Robin Hood is rated PG-13.
Comments Off

on Robin Hood
When Sophie (Amanda Seyfried), a fact checker and aspiring writer for the New Yorker and her fiance Victor (Gael Garcia Bernal) head to Italy for a pre-wedding honeymoon love is in the air. But, before long the two end up on different agendas and by total chance Sophie discovers the famed balcony where Juliet supposedly called to Romeo. At said balcony those with questions of love often write letters to Juliet and post them on a wall, similar to the way children write letters to Santa. The difference being, letters to Juliet are often answered by "the Secretaries of Juliet," a group of women who gather each night to answer as many questions of love as possible. Intrigued, when Sophie discovers a long lost letter to Juliet, the opportunity to respond as one of the  is hers for the taking. Surprisingly, her 50 year late response is just what Claire (Vanessa Redgrave) needed to return to Italy and find her lost love. With the help of Sophie and her grandson Charlie (Christopher Egan), Claire sets out to find her soul mate. But is she too late,  how will Sophie and Charlie get along, and what of Sophie's fiance?
A simple and predictable  romantic dramedy with enough pathos to actually merit some attention. While the overall story telegraphs every twist and turn and leaves little room for the imagination, the acting between Redgrave and Seyfried is actually something to make note of and comes across as touching at several points. Cliche soundtrack choices could have been better picked and are almost a little insulting at times. Regardless, fans of romantic films might actually find something that isn't too sickly sweet or trying too hard to be funny but instead an endearing story of never ending love. Perhaps a matinee. Letters to Juliet is rated PG.
Comments Off

on Letters to Juliet