Archive for June 4th, 2010
Times are tough for the music industry, album sales are down and new artists just aren't producing the material to connect with audiences; so, when the President of Pinnacle records (Sean 'P Diddy' Combs) green lights Aaron Green (Jonah Hill) on a project to re-launch the career of one of his idols tensions are a bit high. It's now up to Aaron to get Aldous Snow(Russell Brand) from London to L.A. in time to kick things off at the Greek Theatre. This however is easier said than done as both Green and Snow are dealing with their own personal demons and relationship woes. On a rock and roll journey full of debauchery and chaos ultimately the question is, can it be done, can Aaron get Aldous to the Greek?
One part Spinal Tap, one part Pulp Fiction, a smattering of Fear and Loathing in Las Vegas, and then a splash of every buddy movie you've ever seen, the script here doesn't exactly present us with much we haven't already seen before. But still, Brand's quick dry wit and own life experience makes for a painfully accurate and authentic performance– one that will make you laugh, cringe, empathize, and laugh again. Meanwhile a more subdued performance from Hill shows us a less snarky and perhaps emotive side we haven't seen before. Lending further to the credibility to the film, the music that we're supposed to believe Aldous Snow has written is actually good, and the lyrics poignant.  Worth a matinee or rental later. Get Him to the Greek is rated R.
Comments Off

on Get Him to the Greek
When Elsa and Clive (Sarah Polley and Adrien Brody) learn that the parent company of their biomedical lab is shutting down operations, the two decide to go rogue and begin making questionable ethical decisions in an effort to prove to themselves what they're capable of. In this case, it's the splicing of human genes with the genes of other animals in an effort to produce enzymes that could cure many of the diseases of today. Things get out of control quickly as their creation begins growing at an accelerated rate which leads to more ethical questions. Of course, eventually the cost of their decisions will catch up with them, but how many lives will be directly altered because of this new species creation?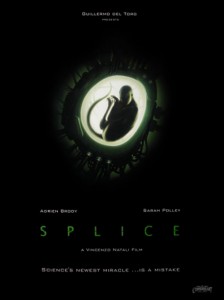 With a script that basically telegraphs every move, there's not a lot of surprise or even suspense in this semi horror sci-fi thriller. But from a psychological perspective the film stays interesting and makes several interesting turns along the way that feel insightful and real. Sadly,for all of it's smarts, there even comes a point where the overall message unintentionally becomes laughable instead of moving, perhaps a flaw in the hybrid nature of the film, poetic? As a lower budget sci-fi flick the effects are mostly forgivable and will certainly beat anything on the Sci-Fi Channel. Overall, I guess I'm mixed on this one, perhaps a matinee here too. Splice is rated R.