Archive for June 11th, 2010
A group of well respected Army Rangers become fugitives from the U.S. military when a CIA black ops mission they were assigned to goes awry. Now it's up to Hannibal (Liam Neeson), Face (Bradley Cooper), Murdock (Sharlto Copley), and B.A. (Quinton Jackson) to clear their names and finish the mission they were originally asked to complete. But who's pulling the strings and which alliances can be trusted?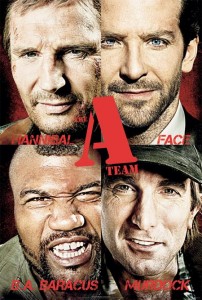 The first of two re-boots from the 80's out this weekend, I can honestly say this film does exactly what it was designed to do. It's a popcorn chomping, summertime action adventure flick based on the iconic characters a lot of us grew up with. Clever but impossible plans are laid, stuff blows up, bad guys are caught, more stuff blows up, more bad guys, the pattern continues. I mean, that's why we watched the show originally right? A few cliche action moves and stylistic choices are made throughout the film that director Joe Carnahan could have just as easily done away with, but there's nothing terribly egregious that will just make you groan out loud. I'm also proud to report that all of the leads pretty much nail their roles, capturing the essence of what we've come to expect; although, I'm still wondering what truly useful purpose Jessica Biel really served in this film? Ticket sales by sex appeal? Okay, pass, I guess everyone else is doing it, why not? Also, I'm proud to report, just like the old TV series, the violence and implied violence never results in high blood spatter which is pretty amazing in itself. And, keep a close eye out for cameos of original A-Team members Dirk Benedict and Dwight Schultz. Despite the long-ish feel I'd say the film is still worthy of seeing on the big screen, which is also where it's probably best suited. The A-Team is rated PG-13.
Comments Off

on The A-Team
The second re-boot of sorts this weekend happens to be the beloved tale of the Karate Kid. Staying generally true to the original outline, a young boy, Dre Parker (Jaden Smith) and his mom (Taraji P. Hensen) move to a new town, in this case it's Beijing, China. Once settled Dre finds a love interest, Meiying (Wenwen Han), but is challenged by the school bully, Cheng (Zhenwei Wang). Before long the building maintenance man, Mr. Han (Jackie Chan), takes pity on Dre and volunteers to unconventionally teach him Kung Fu for a pride/grudge match against Cheng.
Now, admittedly I went into this screening with low expectations bracing for cutsie humor and a half baked script. Surprisingly, the film turned out a lot better than that. Well choreographed action and actual Chinese martial arts philosophy and culture is woven into the drama which lends to the credibility of the overall story. Decent acting from all of the children actors also helps considerably. On the down side, the film is long, it's over two hours long and could have easily been cut back by a third if the first half of the film moved just a little faster and a fist full of beauty shots were cut from the picture. As a family friendly alternative that actually stands to impress, this isn't a bad option. The Karate Kid is rated PG.
Comments Off

on The Karate Kid