Archive for July 9th, 2010
A new criminal mastermind named Vector (Jason Segel) is out to steal large immovable international treasures in order to create a name for himself in the criminal world. Sensing a need to prove his criminal savvy and worth against Vector, Gru (Steve Carell), a slightly older yet still dastardly villain sets out to pull off the biggest heist the world has ever known– to steal the moon. But, what happens to Gru's hardened heart when three adorable orphaned girls worm their way into his life, will his big plans be put on hold and what to do about Vector?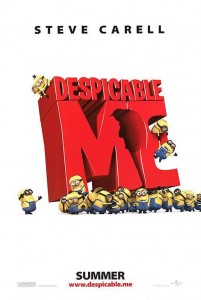 Straight up family fun for almost everyone this weekend with comedy on several levels in this one. Carell and Segel each known for their unique sense of timing and comedic sensibilities shine bright here. The script is a bit predictable and perhaps not the richest storyline we've seen in animation comedy this summer but it hardly matters, the end result still makes for a great matinee. And, unlike other 3D films out right now, this one actually makes use of the 3D technology, especially if you stick through the credits– worth doing. Despicable Me is rated PG.
Comments Off

on Despicable Me