Archive for July 23rd, 2010
When a mysterious Soviet defector named Orlov (Daniel Olbrychski) turns himself in to the CIA, red flags are immediately raised about one of the CIA's best and brightest– Evelyn Salt (Aneglina Jolie). Orlov explains that Evelyn will be responsible for the death of the Soviet President who is currently visiting the United States for a funeral. Upon receiving this message Evelyn takes evasive action to elude the authorities and apparently carry out said mission, but why, what is her motivation, where is her loyalty, and what is her relationship to Ted Winter (Liev Schreiber)?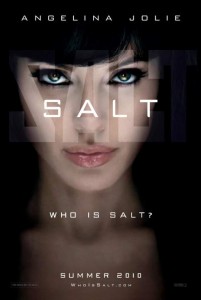 Doing what we've grown accustomed to seeing Angelina do best, intense cat and mouse action scenes run rampant through this summertime popcorn chomper. And, while the nature or history of the action drama genre isn't exactly being rewritten, there's still plenty to sink your teeth into in this one. With just enough twisting and turning of the plot to keep you guessing for at least the first two thirds of the film director Phillip Noyce pulls back the layers of this onion at a calculated pace and still manages to leave some of the best material for last. Sure to be a hit at the box office this weekend. Salt is rated PG-13.
Ramona Quimby (Joey King) is a wildly imaginative 9 year old; meanwhile, her sister Beezus (Selena Gomez) is the picture perfect daughter and sister. When stress enters the household in the form of layoffs at their father's office, the whole family struggles to adjust to a new standard of living. In particular, Ramona is moved to help the family stay afloat, but how will her efforts be received, and what about this mysterious guy named Hobart (Josh Duhamel) who seems determined to win the affection of Ramona's Aunt Bea (Ginnifer Goodwin)?
Based on the popular children's book series by Beverly Cleary, Director Elizabeth Allen has done a notable job capturing the essence, wit, and complexities of Cleary's characters in a refreshingly polished film for the whole family. With subject material that could have easily been cheated to reach only a young audience, Allen instead has taken the higher road to make a film that's not only well written, and well acted, but also well produced in all elements. In particular, the child actors really knock their parts out of the park to set the bar high for all that follow in their footsteps. Sadly, despite the film's accomplishments I for one am particularly concerned about the studio's choice of a release date. With several other strong performing films for families and children currently in theatres I'm worried audiences won't really give Ramona and Beezus the attention they deserve, I suppose only time will tell. Worth at least a matinee, Ramona and Beezus is rated G.
Comments Off

on Ramona and Beezus