Archive for September, 2010
Double crossed by the Mexican government and forced to watch the execution of his own family, cialis 40mg Machete (Danny Trejo), a former Federale is trying to make an honest living in the United States as an illegal immigrant/day laborer. But try as he might, trouble just seems to find him when he's hired to shoot the hard lined anti-immigration Senator McLaughlin (Robert De Niro). Before long, Machete learns he's actually been set up once again, this time to give a boost to the Senator's campaign and in turn assist the evil drug lord Torrez (Steven Seagal), the very man who killed his family. Now out for blood and justice Machete takes on all evil doers with assistance from an unlikely group of folk legal and illegal. But will justice be served or will his legend be just a myth?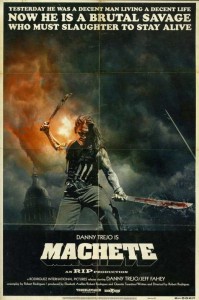 Flat out brutal grind house flavour with more than enough splatter gore will keep action hungry fans more than satisfied. From a visual angle director Robert Rodriguez returns to his roots and does arguably what he does best, stylized violence/action. Rodriguez's comic book-esque plot drives this exploitation brand film over the top with plenty of irreverent and witty humor; and, of course the obligatory kung fu sword play and combat along with not so subtle political overtones help to strike the balance of levity and gravity in his story telling. The end result is an enjoyable watch with plenty of what we've been missing this summer in similar action flicks, intestinal fortitude with a smile…. plus some nudity.  All told, the film does begin to drag in the last third, despite it's minuscule run time of 80 minutes and that's kind of a drag, and, if you haven't clued in to this so far, this is a basically a film for dudes, so it may not be everyone's cup of tea. Regardless, it's still worth seeing for the spectacle, and best seen with a group of fans. Machete is rated R.
Share
Record label A&R rep Garrett (Justin Long) is a 30 something guy, cialis unwilling to commit to a relationship and open his heart, destined to fail with the ladies. Erin (Drew Barrymore) is an aspiring news writer looking to finish college and land a job with a major newspaper. When the two meet on a fluke, a one night stand becomes an intense relationship that neither saw coming. When their 6 week fling comes to a close and Erin moves across the country to finish school the two attempt to maintain a long distance relationship. But does the couple have what it takes to stay strong or will their careers and other distractions be their coffin nails?

Sharp writing and improv skills from the ensemble make this film a fast tongued and quick witted comedy that also happens to be a love story of sorts. And, given that in real life Long and Barrymore have been a couple on and off for some time, the film feels even more genuine. Several memorable moments also come to mind from supporting actors Charlie Day and Jason Sudeikis who play Long's roommates in New York, again success in the oddball comedy bits. Yet, before I go into a complete lovefest for this one, let me be quick to point out there's still the irksome factor that we're not exactly seeing a new story idea here. In fact, the film is predictable from the get go and does walk the line of becoming a stereotypical romantic comedy, the saving grace though is the honesty and edgier brand of humor without which the film this might not work. Matinee worthy and not embarrassing for the dudes out there to take their ladies on a date. Going The Distance is rated R.
Share
Comments Off

on Going The Distance