Archive for October 15th, 2010
Retired C.I.A. operative Frank Moses (Bruce Willis) finds himself back in action and in need of help from a group of his old colleagues as hit squads from the current C.I.A. administration begin trying to eliminate him and his innocent romantic interest Sarah  ( Mary-Louise Parker). As Frank begins to assemble his team, including intelligence guru Joe (Morgan Freeman), hitman Marvin (John Malkovich), and weapons and sniper specialist Victoria (Helen Mirren) a bigger plot begins to unfold. But, can Frank and crew find out who gave the order to kill him; and, how far will he have to go in order to put an end to the chaos?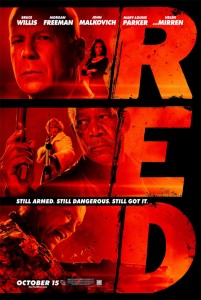 Now, it should come as no surprise the acting across the board is solid from all parties and conceptually the film has the makings for what could be a lot of fun, it's unfortunate that the writing department comes up short. Easy setups and attempts at humor resound flat for the most part, and, the few stand out moments that do muster a chuckle or two just aren't enough to really pull the yoke enough to keep this one aloft as a comedy. Sure, the action elements of the film work fine but at a certain point they aren't really anything terribly new or unpredictable. All of this in mind I don't know if I'd want to shell out full price for this one, but as a matinee, this might still be a winner. RED is rated PG-13.
A soon to be retired parole officer named Jack (Robert De Niro) begins to question some of the difficult turns and choices of his life when a hardened and enigmatic prisoner named Stone (Edward Norton) enters his life. Complicating matters Stone convinces his gorgeous and manipulative wife Lucetta (Milla Jovovich) to help persuade Jack to release her husband. Now, wrestling with the demons of his past and the uncertainty of his own future Jack must make some difficult decisions, meanwhile a newfound interest in religion has Stone questioning his own path in life.
Solid acting credits go to the entire ensemble including Frances Conroy who plays De Niro's wife in this tour de force of dramatic heavyweights. Unfortunately, despite top notch talent the film never seems to reach its true potential for lack of a compelling script. By the end of the film we haven't really seen a significant arc or change in any of our actors; rather, we get a handful of character studies that just kind of sit there which left me feeling distinctively "ho-hum." Maybe worth a matinee on a rainy day. Stone is rated R.