Archive for February, 2011
Dr. Martin Harris (Liam Neeson) and his wife Elizabeth (January Jones) are in Berlin for a controversial bio-engineering convention when a tragic accident puts Martin in the hospital with a head injury. Released from the hospital Harris discovers he has mysteriously been replaced with an imposter (Aidan Quinn) who also claims to be Dr. Harris. Confused and frustrated Dr. Harris must go through unconventional means to discover why he's being replaced and what the bigger picture really is.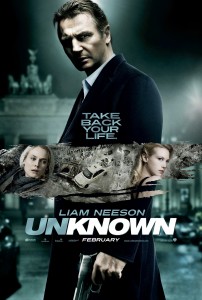 A strong cast keeps this spy/espionage/thriller alive. But, I'll be quick to point out, twist and all, there's not a lot new in this one; so, zero points for originality. Still, from an entertainment stand point of view, the film does what it sets out to do. Despite its short comings and implausibilities, I found myself invested until the end. Perhaps a matinee or a rental. Unknown is rated PG-13.
Shakespeare's classic is re-imagined as two animated feuding families of garden gnomes waging war upon each other's yards. As case may have it, the prized offspring of both families, Gnomeo (James McAvoy) and Juliet (Emily Blunt), manage to fall madly in love with each other. But can their love survive despite the disapproval of their respective families; and, more importantly who will survive the wrath of the Terrafirminator?
Voiced by an all star cast including Michael Caine, Maggie Smith, Jason Statham, Ozzy Osbourne and Patrick Stewart, the talent runs deep here. Meanwhile, the writers of the screenplay clearly had fun adapting Shakespeare's work into something that will sit well with audiences both young and old. And, with the lion's share of the score coming directly from Executive Producer Elton John's library it's hard to miss musically. That being said, the film doesn't get complete originality points with concepts and some humor lifted directly from Toy Story. Still, the film managed to make me chuckle and laugh out loud enough to earn my respect. Again, 3D effects aren't utilized to their utmost, but they don't detract either. A fun matinee for the family. Gnomeo & Juliet is rated G.
Comments Off

on Gnomeo & Juliet
Danny (Adam Sandler) is a successful plastic surgeon working in L.A., wealthy and single ever since his heart was broken years ago; years later when he finds the woman of his dreams, Palmer (Brooklyn Decker), a beautiful young school teacher, he's in a bit of a bind. Palmer thinks Danny is married but soon to be divorced, and, before she's willing to advance their relationship she wants to meet his soon-to-be ex. In an effort to ease Palmer's concerns, Danny convinces his faithful assistant, Katherine (Jennifer Aniston), to play the part of his wife on a vacation to Hawaii. But can Danny and Katherine keep up the ruse, what about their so-called kids, and who will live happily ever after?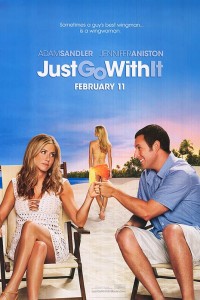 Now, I'll be honest, I'm not the biggest Sandler fan, in fact I can't stand most of what he does. With rare exception I find his schtick formulaic, tired, and unimaginative. That in mind, I was pleasantly surprised when the film didn't completely bomb for me. Now, that's not to say the screenplay isn't a chip off the old block, in fact it is, but, for some charming reason a dash of the humor here made me chuckle. Of course there's still the same old wicked Sandler edge, adolescent jokes that play well to the lowest common denominator and vindication for the underdog, yet on a few occasions I actually found myself liking the characters. Nicole Kidman and Dave Matthews's bit parts also serve as classic Sandler villains, fine. Bottom line, it's okay, maybe a matinee edging towards a rental. Just Go With It is rated PG-13.
Comments Off

on Just Go With It