Archive for December 16th, 2011
Freed from prison, espionage extraordinaire Ethan Hunt (Tom Cruise) quickly finds himself and the rest of his I.M.F. team wanted by both the U.S. and Russian governments. Now it's up to Ethan, Benji (Simon Pegg), Jane (Paula Patton), and Brandt (Jeremy Renner) to clear their names and stop a Russian terrorist set on destroying all life on earth through nuclear warfare. Of course their mission will take them from Moscow, to Dubai, Mumbai and eventually end in Seattle of all exotic places; but, to what lengths will the team have to go through, outside of travel, to get their mission accomplished?
No doubt about it, this is an explosive weekend at the box office, and why beat around the bush on this one, this is a gem! The whole ensemble handles the source material with just enough humor dashed with bravado to make for a seriously enjoyable action/thriller with strong comedic overtones. Director Brad Bird strikes pay dirt with thrills and suspense that give the good old cliff hanger a run for the money. Punchy sound, and a loud and driving score with the all too familiar Mission Impossible theme adds to the fun. And, one of the most creative chase sequences I've seen in years finishes the film strong. Other films may have forgettable action, but this one will leaving you with points to talk about later. As fun as it should be, worth it. Mission Impossible: Ghost Protocol is rated pg-13.
Comments Off

on Mission Impossible — Ghost Protocol
Holmes (Robert Downey Jr.) and Dr. Watson (Jude Law) find themselves at odds with each other on the night before Watson is to be married. However, their differences are quickly left behind as the diabolical mastermind Professor James Moriarty (Jared Harris) steps up his game to eliminate the duo and make millions by starting what could be World War 1. Now its up to the master sleuths to stop Moriarty and figure out his connection to gypsy fortune teller Madam Simza (Noomi Rapace), but could that mean the end of Holmes?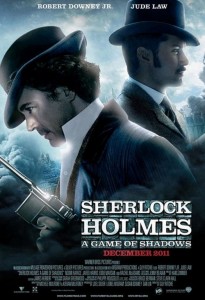 Directed by Guy Ritchie and edited with more of the same stylistic flair as the first installment, A Game of Shadows picks up nicely where the last film leaves off, but also stands on its own just the same. Albeit, this go round everything does feel louder and a bit more action, action, action, with fewer stop downs. At the end this did leave me a little hungry for a little more substance and I wish there was more of the pithy dialogue we've come to expect between Holmes and Watson. Still, high entertainment value, solid acting from our leads, interesting sound design and score make this more of a winner. It's big, it's boisterous, it's a bit bombastic, but it's still a value. Sherlock Holmes: A Game of Shadows is rated PG-13.
Comments Off

on Sherlock Holmes: A Game of Shadows