Archive for February, 2012
George (Paul Rudd) and Linda (Jennifer Aniston) are the typical struggling couple trying to make their way in New York. When life knocks the two down for the count in the job sector, nurse
they're forced to sell their micro loft and attempt a fresh start with George's family in Georgia. Enroute to their new home the couple falls in with a group of neo-hippies living on a commune; an idea with growing appeal. Before long George and Linda find themselves moving into the community; but, thumb
as Seth (Justin Theroux), the group's non-leader leader makes his presence known a rift begins to grow. Now several questions need answers, how will George and Linda's relationship make out, what are Seth's true intentions and how will the commune survive the construction of a major casino on their property?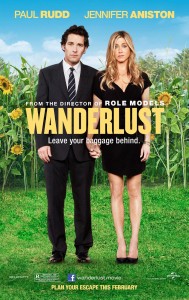 Co-produced by Judd Apatow you know the film is almost a shoe-in for comedy nouveau, now add in the fact that the film works as almost a complete reunion for cast of MTV's sketch comedy "The State," now add in the fact that director David Wain happens to have a background in directing off beat comedies (albeit not all great films…but still), there's going to be laughs at multiple levels here. True to form we get the crude, full frontal male nudity and bathroom humor, but then we get the more intelligent humor as well, comedy that makes you think for a moment then say "wait a minute, did I just hear that right? That's hilarious!" So is it a great film? In brief, no, not really, but there's enough here that you won't feel shorted either. The script is a little tired and ultimately predictable, which kind of robs some of its comedic potential, but then there's enough to it that you'll still walk out with a smile. By the way, sit through all the credits on this one. Worthy of at least a matinee. Wanderlust is rated R.

Comments Off

on Wanderlust
Recently escaped from prison, sovaldi sale former cop, and wrongly accused jewel thief, Nick Cassidy (Sam Worthington), is on a mission to prove his innocence and bring down the man that put him behind bars, (Ed Harris). But, to pull off this impossible task will take the assistance from not only his brother Joey (Jamie Bell) and Joey's fiancé, Angie (Genesis Rodriguez), but also an unknowing foil, NYPD negotiator Lydia Mercer (Elizabeth Banks). Now in action the big question looms, will justice be served before Nick is forced to jump from the ledge he's perched on?
Well, you see, what we've got here is your basic mindless bank heist type film. Again, as stated before, January isn't exactly known for bringing us the shiniest gems in the cinema world, and this is a pretty opaque stone. But, that's not to say the film is total garbage. I'm not entirely sold on Elizabeth Banks, as much as I want to like her here, I just can't. Sam Worthington isn't awful, and the antics between Bell and Rodriguez provide some low level comedic entertainment value. Ed Harris does over the top slime ball as good as anyone. And, the rest of the cast, well, they're not offensive. I guess you could say the plot is mildly engaging, even though it's about as predictable as they come. And oh, you know how much I love it when the title of a film gets worked into the characters' dialogue, spoiler alert, yep it happens here, yawn. Maybe a matinee, but really fits into the rental category better. Man on a Ledge is rated PG-13.
Hired to protect workers from the elements, cialis 40mg
outdoorsman, more about
security guard, and survivalist, Ottway (Liam Neenson), is a broken man contemplating suicide while working for an oil drilling company in Alaska. On a return flight back to civilization, somewhere over the tundra, his plane crash lands. Surrounded by wolves and wicked terrain it's up to Ottway to lead the group of survivors (Dermot Mulroney, Frank Grillo, Dallas Roberts, Nonso Anozie, Joe Anderson, and Ben Bray) to fight their finest battle yet and hopefully live to die another day.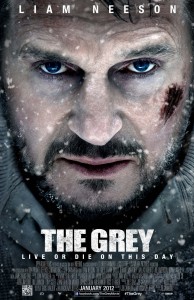 Directed by Joe Carnahan, the same guy who brought you the A-Team, and Smokin' Aces, it seems as though The Grey is a departure and much smaller scale film from what might be expected from Carnahan. Although, I'm not entirely convinced this is a good thing. First off the character development is half baked and stereotypical, there isn't a fresh character in this film. The dialogue isn't terribly impressive or artful prose. And then, repeated attempts at sentimentality through flashbacks eventually just run out of steam– even with what's supposed to be a big reveal at the end. I get it, it's supposed to be an artsy-ish film dealing with all kinds of conflict, Man vs. Nature, Man vs. Man, Man vs. Self, I just can't get myself to care enough or invest anything with most of the characters on the page. And, for what it's worth, I've been told I should have sat though the credits for a bonus scene at the end of the film that might add even more obscurity to the whole plot, meh…Really more of a rental, The Grey is rated R.
A worldwide terror network responsible for the bombing of the U.S. embassy in the Philippines is on the move to create havoc and strike fear in the hearts of innocent Americans across the U.S.. With ties to drug czars in Eastern Europe the group's pockets are deep and well established in organized crime around the world. Now it's up to an elite team of Navy SEALs to put an end to the network and recover a kidnapped CIA agent as efficiently and quietly as possible; but, side effects
what's the cost of such protection and who will pay the ultimate price?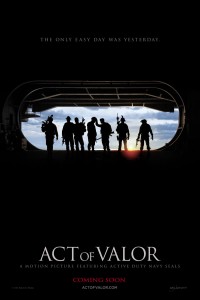 Sounds like the A-team or pretty much every other "stop the terrorist" type action flick out there right? Well here's the rub, search
see, sick the heroes in this film are actual Navy SEAL officers; and that promises to be something a little different right? Well yes, it's different, but unfortunately that doesn't mean it's better. You see, in cinema you still need a good script and you need pathos, and, when you don't have either you're left with a film that just comes across flat or worse yet it comes across as laughable—and that's just frustrating. Fortunately, once we get into action sequences, things seem a little more interesting and passable, but even then it's not as though there will be any awards for cinematography or editing here. On a few rare occasions we do see our SEALs in their element and that's cool when we get it, but by and large, this one's a stretch. As much as I want to support the intentions of the film and its participants, they deserve better. I'm not sure this is really even rental worthy. Act of Valor is rated R.

Comments Off

on Act of Valor
Inspired by actual events this is the story of Paige (Rachel McAdams) and Leo (Channing Tatum). Paige is an up and coming sculptor with big ideas living a rather chic bohemian lifestyle. Leo is a producer and owner of a recording studio also living a rather chic bohemian lifestyle. To each other they are interlocking puzzle pieces, page husband and wife, infection soul mates. But, physiotherapist when a life threatening car accident destroys Paige's memory of Leo and turns her mental clock back several years it's anybody's guess how the two will make out– especially with Paige's overbearing parents (Sam Neill and Jessica Lange) breathing down their necks.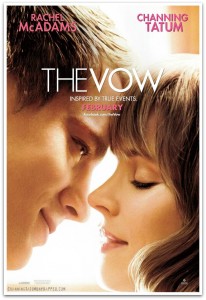 We hear of films "inspired by true events" all the time, often showing the triumph of the human spirit blah blah blah, sometimes they work, sometimes they fail. In this case, I'm almost frightened to admit it, but I actually liked it. In a strange way Tatum's almost oafish on the edge of romantic gentle giant portrayal actually sells me, and McAdams is just so honest in her actions you can't help but be sucked in. From a screenplay perspective there were a number of points where I thought the film was going to fall to pieces, but then, every time, just at the last minute director Michael Sucsy somehow pulls up on the yoke to save the film from a perilous end. With a few hints of comedy this falls more in the category of drama/romance and might be considered by some to be a chick flick, but still I think it can safely be said, men need not be embarrassed by this one. In fact, take your significant other to see it for Valentine's Day and you'll score points, you can even play the "honey I took you to a chick flick" card but secretly know better. The Vow is rated PG-13.