Archive for February 10th, 2012
Inspired by actual events this is the story of Paige (Rachel McAdams) and Leo (Channing Tatum). Paige is an up and coming sculptor with big ideas living a rather chic bohemian lifestyle. Leo is a producer and owner of a recording studio also living a rather chic bohemian lifestyle. To each other they are interlocking puzzle pieces, husband and wife, soul mates. But, when a life threatening car accident destroys Paige's memory of Leo and turns her mental clock back several years it's anybody's guess how the two will make out– especially with Paige's overbearing parents (Sam Neill and Jessica Lange) breathing down their necks.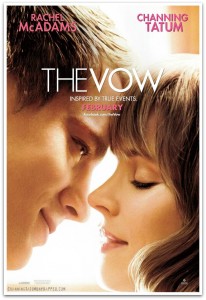 We hear of films "inspired by true events" all the time, often showing the triumph of the human spirit blah blah blah, sometimes they work, sometimes they fail. In this case, I'm almost frightened to admit it, but I actually liked it. In a strange way Tatum's almost oafish on the edge of romantic gentle giant portrayal actually sells me, and McAdams is just so honest in her actions you can't help but be sucked in. From a screenplay perspective there were a number of points where I thought the film was going to fall to pieces, but then, every time, just at the last minute director Michael Sucsy somehow pulls up on the yoke to save the film from a perilous end. With a few hints of comedy this falls more in the category of drama/romance and might be considered by some to be a chick flick, but still I think it can safely be said, men need not be embarrassed by this one. In fact, take your significant other to see it for Valentine's Day and you'll score points, you can even play the "honey I took you to a chick flick" card but secretly know better. The Vow is rated PG-13.