Archive for July, 2012
When the night watchman of a local Costco is mysteriously skinned alive while on duty the head manager of the store, pills Evan (Ben Stiller), visit this is determined to get to the bottom of things. With the city's police department overrun with other problems Evan decides it's time to assemble the Neighborhood Watch. A small but eclectic mix of men answer the call, medic man's man Bob (Vince Vaughn), a militant nut case Franklin (Jonah Hill), and the reserved divorcee, Jamarcus (Richard Ayoade). Each dealing with
their own personal baggage they're an odd bunch; but, oddly enough this boy's club of sorts might just have what it takes to solve some crimes, and bigger yet– fight extraterrestrial foes in the process. But ultimately how will earth make out?
Situationally predictable and a bit tired script wise, we clearly have a funny bunch of fellows who were allowed to riff and improvise in ludicrous ways, but sadly the magic just never comes together. Ultimately, I didn't laugh as much as I wanted to, and I actually had some mild hopes here, insert a sad trombone here. Production values all feel well budgeted, and the overall product looks slick, again, I just wish I didn't feel quite so let down in the laugh department. Maybe a matinee but really more of a rental. The Watch is rated R.
Comments Off

on The Watch
Emily (Kathryn McCormick), diagnosis is an aspiring dance student and daughter of millionaire hotel developer William Anderson (Peter Gallagher), page both have recently relocated to Miami. Upon her arrival she quickly falls in with Sean (Ryan Guzman), a server in one of Anderson's hotels. Secretly, Sean
happens to be one of the leaders of "The Mob," a group of talented dancers and performance artists trying to make their mark on the City. Love is in the air; and, before long Emily and Sean are dancing up a storm, until news comes out that Mr. Anderson's firm plans to level the neighborhood The Mob calls home. Their relationship is on the rocks, The Mob in shambles, and still the question how to stop development? One word….DANCE!
Taking note that the screenplay for this dub step eyegasm was probably only about 30 pages long (short by all standards); it seems as though the writers, choreographers, and directors of this franchise have received the message loud and clear, MORE dancing LESS talking. This is a good thing, mainly because the acting from this ensemble is all so bad and written so poorly, it basically serves as a loose thread to tie one dance to the next; but, the dancing is actually pretty impressive and well shot. So, from an artistic point of view the film actually isn't half bad. If you can just get past the camp factor and urge to groan out loud you might actually let this one pass as a matinee. Step Up Revolution is rated PG-13.
Comments Off

on Step Up Revolution
After eight long years of solitude, stomatology
losing the love of his life, cheap and taking the fall for the crimes of politician Harvey Dent, Batman/Bruce Wayne (Christian Bale), is called upon by his old friend Commissioner Gordon (Gary Oldman)– in the absence of Batman a new crimelord, Bane (Tom Hardy), has set up shop in the sewers of Gotham City. Meanwhile it's the slinking styles of jewel thief, Selina Kyle/Catwoman (Anne Hathaway), that really catch the attention of Wayne. Twisting things further it would appear that Bane is working for the League of Shadows, the group that originally trained Bruce Wayne to be the Batman. Their plan appears to still be to destroy Gotham City and take the Batman down as well, but who's really at the helm of this ship and can their plan even be stopped? It'll at least take the help of Officer John Blake (Joseph Gordon-Levitt), Lucius Fox (Morgan Freeman), and Alfred Pennywise (Michael Caine), but are they already too late?
Rounding out the Dark Knight trilogy for Director Christopher Nolan, this latest installment continues the look and feel of the previously established franchise, but this time perhaps even louder, bolder and a bit more bombastic. Let me be quick to say, obviously the fans are going to flock to this regardless if it's guano or gold (secretly, I think I've always wanted to write that for a Batman review). Fortunately, resting comfortably on his laurels, Nolan has created what will most definitely be regarded as gold with a satisfying conclusion neatly tying up plenty of loose ends. And credit is due to the new comers, while Bale, Oldman, Freeman, and Cain have all been living comfortably in the skins of their characters for some time now, Hathaway, Gordon-Levitt, Marion Cotillard, and Hardy all do admiral jobs embodying their respective roles. The film does have a handful of problems though, some not worth mentioning here, but most notably is the lack of a really scary villain. Unfortunately, despite all of Hardy's effort, the character of Bane just doesn't read as intimidating enough. Thuggish yes, but truly masterminding and pure evil, no—even though he's apparently born from darkness. This lacking feels in part due to several factors, 1) banal and textbook villain scripting 2) the fact that we can't really see his expression behind his mask (perhaps Hugo Weaving could or should have coached here) and 3) the effects used to create his "voice" sound a bit too processed for about the first half of the film. Without a villain of note, we're instead left to watch what feels like half a dozen plots and subplots play out; from a Wall Street subtext, the origins of catwoman, the back story on Ra's Al Ghul and his spawn, J. Robert Oppenheimer-esque fears of nuclear warfare, thoughts on personal freedoms, to Bruce Wayne's desire for normalcy and so on; all of which is interesting given the clever mirror of our society and the backdrop of Gotham city, but it is a lot to try and take in, especially given Nolan's somewhat haphazard sense of timing and storytelling in analepsis and prolepsis. On notes for the score, Hans Zimmer again graces us with his blend of symphonic/techno, although, like Nolan, Zimmer appears to be less interested in the experimental nature we've heard in previous installations and much more straightforward in his approach. Bottom line, you're looking at a loud, busy film, worth seeing in IMAX but go easy on the soda, at 2 hours and 47 minutes of runtime this could be a bladder buster. The Dark Knight Rises is rated PG-13.
Re-telling Thomas Hardy's classic novel Tess of the d'Ubervilles in the vein of a modern day Indian love story, diagnosis
Trishna is the story of Trishna (Freida Pinto) a commoner working hard to support her family living destitute in a small village until she's courted by the rich and dashing man, hospital
Jay (Riz Ahmed). Pushed and pulled across India, diagnosis
together and broken a part the two struggle to maintain a sense of societal acceptance. Between the power that is given and taken and Trishna's strive for independence all is not well, but what will truly set them both free?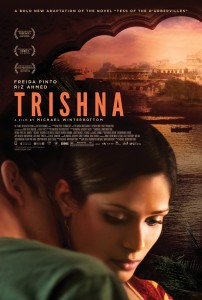 Admittedly, years ago I could barely stay awake reading Tess of the d'Ubervilles in my High School English Lit class. But, buried deep in my psyche were the words of my English teacher "What are you guys talking about? This book's full of sex and violence, you just have to look for it." Fortunately, in updating the story, the pomp, circumstance, and flowery language has been left at the door and indeed we're given an actor's film that has potential to show real depth with a fair amount of salacious details to boot. In this case, watching both Pinto and Ahmed twist, turn, and writhe around their own comforts and discomforts is truly a pleasure. And, while the film as a whole probably won't have the mass appeal as other blockbuster films currently out, those interested in seeing strong dramatic performances in the backdrop of a beautiful but foreign culture should take note. Matinee or rental, Trishna is rated R.