Archive for August 17th, 2012
Norman Babcock (Kodi Smit-McPhee) is a boy with the ability to see and talk to spirits; it's a talent that's gotten him into plenty of trouble and the could shoulder of many of the folks in his town. But, when Norman finds he holds the key to saving the town from an ancient ghost witch that could change.
Brilliant animation from the same producers who brought us Coraline. The writing to Paranorman is sharp, witty, pays homage to countless horror films, calls for plenty of laughs, and still manages to keep a PG rating. Voice talent from Leslie Mann, Anna Kendrick, Casey Affleck, Jeff Garlin, Christopher Mintz-Plasse, and Tucker Albrizzi are nothing shy of fantastic. This one's worth it!
Comments Off

on Paranorman
Cindy and Jim Green (Jennifer Garner and Joel Edgerton) are two would be parents with hopes of adoption. But, when the perfect but odd boy just for them, Timothy (CJ Adams), miraculously appears in their life, the life lessons and parenting skills they've been looking to hone come to a polished edge. But how long will Timothy stay?
Magical and fresh this Disney film has it's moments of sappiness, and while I'm not entirely impressed with the adults, the kids manage to carry this one…mostly. Overall, it's the modern myth, fairy tale quality to the whole thing that keeps this interesting and heartwarming. Fun for the family. The Odd Life of Timothy Green is rated PG.
Comments Off

on The Odd Life of Timothy Green
28 year old Eric Packer (Robert Pattinson) is a billionaire asset manager detached from his own emotions, conscious, and sense of right or wrong. On a limo ride across Manhattan to get a haircut a whole cast of characters file in and out of the car to peel back more of Packer's psyche and perhaps his downfall.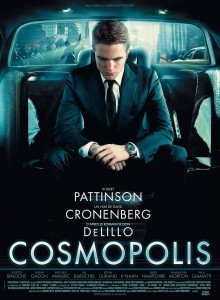 Directed by David Cronenberg, this will not be everyone's cup of tea. Stylized and presented with a glib and soulless affectation Pattinson doesn't feel stretched here. Dialogue and script feel pretentious and self important, when really what it feels like is that we're seeing another social commentary on the financial system and it's ugliness, been there done that. The upside is that the cinematography and use of space is particularly interesting and noteworthy. Maybe a rental when you're up for a challenge. Rated R.
Comments Off

on Cosmopolis