Archive for November, 2012
Survivor of a disastrous shipwreck at sea, Pi Patel (Suraj Sharma), the son of a Zookeeper, is lost and left to survive aboard a lifeboat in the middle of the Pacific Ocean. Drifting further into the abyss he quickly learns of the other survivor on board his lifeboat, a vicious Bengal tiger by the name of Richard Parker. Tested to the extreme of what his body will tolerate, pushed to mental limits, forced to contemplate the meaning of his own existence in the universe and ultimately find god, Pi's journey is one of biblical proportions. Now, years later re-telling his story, where does this all leave him, and what has he learned?
Directed by the gentle and poetic Ang Lee the film is a cinematic work nothing short of amazing. From compelling 3D cinematography that pulls you deeper into the cosmos feeling of the narrative, to quite possibly the most realistic CGI animal we have cast eyes upon, what starts out so simple in premise quickly becomes a mind bending trip. Furthermore, Lee's continued examination of philosophy, love, and religion remains a deep well full of interesting flavours and intricacies. Unfortunately one sour note does repeatedly stand out– interaction between an adult Pi (Irrfan Khan) and a writer (Rafe Spall) listening to Pi's story rings hollow. For all the greatness put forward visually, the interstitial dialogue just falls flat in comparison. None the less, it's the fable quality of the film that sells the drama that much sweeter. Worth your attention. Life of Pi is rated PG.
Comments Off

on Life of Pi
Oh man, remember this one? Wow!? Someone had the guts to remake the already flawed but lovable 80's smash hit Red Dawn. The premise, a communist nation, in this case North Korea, has made the decision to invade the U.S. and take over the nation. This go round we follow a group of high school students in Spokane, WA. Named after their school mascot, the Wolverines, this band of determined rabble rousers led by military trained Jed Eckert (Chris Hemsworth) is set on a mission to steal secret North Korean communication technology. Steal the tech and save the country….oh, and save the girlfriend (Isabel Lucas), and don't get killed.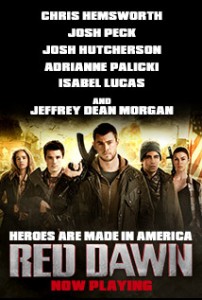 Now it's a tall order to replace the love many felt for the original, so how to measure? Well let's start with the basics, the story is still hokey, but how's the acting? Actually, not so bad considering the absurdity of it all. Yes there's overacting, but hey, BIG EXPLOSIONS! See? So it almost doesn't matter. While the younger cast is clearly the weaker in chops, we actually can appreciate Hemsworth in another role pre Thor (the film was shot back in 2009). And yeah, BIG EXPLOSIONS. While we don't develop deep feelings for many of our supporting actors, those who live and those who die, the bottom line is still moderately more entertaining than one might anticipate. Maybe a matinee, probably a rental. Red Dawn is rated PG-13.
Pat (Bradley Cooper), suffers from what appears to be a bipolar breakdown and is admitted into a mental institution. Now, months later, Pat moves in with his parents (Robert De Niro, Jacki Weaver) as he tries to set his life back on course; but, with the strong temptation to try and reconcile with his ex, Pat appears to be stuck on a destructive path – until Tiffany (Jennifer Lawrence). Almost as unbalanced as Pat, Tiffany may just hold the secret to balancing both of their neuroses, but what's the strategy?
Written and Directed by David O. Russell, a compelling and oddly believable story is once again key, exploring the family dynamic, mental instability and unpredictability, and ultimately one's ability to come to terms with one's own self. Admittedly, while some of the story feels "just too convenient," this is a minor quibble when looking at the work as a whole. Both Cooper and Lawrence give us plenty of drama to sink our teeth into with stark contrast to what might be the expected. Unconventional laughs also keep the ship righted and true. Definitely worth your consideration. Silver Linings Playbook is rated R.
Comments Off

on Silver Linings Playbook