Archive for January 18th, 2013
Ray Owens (Arnold Schwarzenegger) is a former L.A.P.D. special ops officer turned sheriff of the sleepy little town Sommerton Junction. Ray's town happens to sit right on the Mexican border making it a very attractive point of egress back into Mexico for escaped drug cartel leader Gabriel Cortez (Eduardo Noriega). In a stolen high performance car, Cortez is rocketing toward the border, attempting to outrun the F.B.I. but has no idea what he might be facing when he gets to Sommerton. Now it's up to Ray and his rag tag team of deputies (Johnny Knoxville, Jaimie Alexander, Luis Guzman, Zach Gilford, and Rodrigo Santoro) to put a stop to things, apprehend Cortez, and save the town. How much firepower or muscle will it take?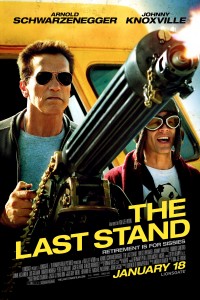 Shifting from politics back to acting, one thing is still clear, Schwarzenegger still can't act…But he can try; and, it's not as if action fans are ever really looking for Oscar worthy performances, so who are we kidding? Instead what we are left with is an enjoyable and goofy, shoot-em up pulpy romp that plays out just as expected. Heavy on practical effects, blood and guts are actual splatters and not computer generated for the most part. Compelling car chase scenes with nods to action films from days gone by scream throughout, and, when it gets right down to the nitty gritty, Arnold and crew still deliver thrills with a smile. Maybe a matinee, The Last Stand is rated R.
Comments Off

on The Last Stand
Victoria and Lily (Megan Charpentier and Isabelle Nelisse), who are left in the woods for 5 years after their father goes missing in a fit of extreme depression and rage. Brought back into society the two are bizarrely feral, something kept them alive in the woods, but it hardly seems human. Now it's up to the girl's uncle (Nikolaj Coster-Waldau) and his girlfriend Annabel (Jessica Chastain) to rehabilitate and raise the girls as best they can. But a dark and twisted force seems to be at play—Mama, the "thing" that kept the girls alive in the woods has followed the girls to their new home. What does Mama want, and can the family give it to her?
Sufficiently creepy, Director Andres Muschietti, employs a handful of scare tactics to work on the psychology of the audience, turning the thumbscrews just right to elicit appropriate squirming in your seat. Albeit, some of the subplots come across a little trite or too convenient, but the general premise is still solid. Conjuring imagery from something Grimm, haunting musical scoring that feels inspired by Danny Elfman, stirred in with the blood and art of Tim Burton and del Toro, this sinister tale will spook you but leave you with a smile. Mama is rated PG-13.