Archive for January 25th, 2013
Retirement homes don't have to be ordinary, and in the case of one special home outside London it's all about music– in fact the home is specifically for retried musicians. All seasoned and versed in the classics the residents are a special bunch, and, once a year they put on a fundraiser gala to support the home. This year finances are particularly low and extra funds must be raised; to sell tickets a renowned quartet featuring residents Wilf, Regi, Cissy and a reluctant Jean (Billy Connolly, Tom Courtenay, Pauline Collins, and Maggie Smith) are slated to perform for the first time in nearly 40 years. But interpersonal conflict between the members and the directing hand of Cedric (Michael Gambon) might be the undoing of the group all together.
Directed by Dustin Hoffman, the amount of acting talent featured in this light hearted feel good film about growing old is certainly impressive. And, when left to do what they do best, this ensemble sings beautifully…so to speak. Sure the plot is predictable, and some of the counterpoint between a few characters feels underdeveloped, but this is easily overlooked when the overall piece is taken into consideration. More impressive yet, in most instances, the musicians featured throughout are actually playing their own instruments. That is to say, we're not watching actors pretend to play instruments, these folks are the real deal….with the exception of the principal actors. Fun abounds in this who's who of British acting and musical royalty. Quartet is rated PG-13…and yes, Billy Connolly IS that awesome!
Retired music teachers Anne (Emmanuelle Riva) and Georges (Jean-Louis Trintignant) are a couple who appear to be living out their twilight years together peacefully; but, on one particular morning Anne appears to suffer from a stroke, a frightening sight for anyone familiar with the repercussions. Now a matter of time before her body rebels and another stroke steals away more of her personality and function the couple's love is stretched to new capacities. Meanwhile, daughter Eva (Isabelle Huppert) is forced to face her parents mortality from a distance, a challenge in itself. Examining selfless and selfish behaviours and the spectrum of love, how will each family member cope?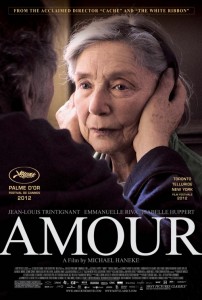 From Writer/Director Michael Haneke (The White Ribbon) comes this real, tortuous, and drawn out work. Shot with minimalist camera work and editing Haneke turns his storytelling knife in the gut of the viewer arduously, methodically, and painfully slow. From an acting standpoint, the ensemble does a fine job in their portrayals, and some scenes are quite telling and beautiful, but, ultimately the lugubrious European tempo of this film may be too much for some. Amour is rated PG-13.