Archive for April 19th, 2013
It's been over 60 years since a horrific battle between humans and an alien race nearly destroyed the planet. Most have been evacuated to Titan, one of Saturn's moons. Earth is now purely a source for hydro electric fusion which will be used for life on Titan. Jack (Tom Cruise) and Victoria (Andrea Riseborough) are a team of the last remaining people on earth, their purpose is to repair security drones and keep the generators running. Meanwhile, a group of remaining aliens, known as scavs, are becoming bolder in their attacks. What could the scavs possibly want at this late stage in the game, and what are these haunting memories of a mysterious woman (Olga Kurylenko) in Jack's dreams? It's only just the tip of the iceberg as everyone's true intentions are revealed.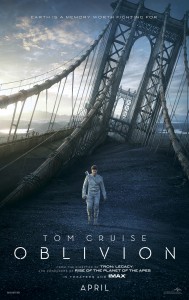 Directed and partially written by Joseph Kosinski Oblivion starts with great promise as a spectacle in a post apocalyptic haze. Sadly, as the plot unravels, blatant plagiarism of at least half a dozen earlier sic-fi wonders is painfully apparent, a move sure to prompt groans and chuckles from dedicated fans of the genre. But wait, what's this? Before we toss in the towel on this one, it should be pointed out there's still a notable level of entertainment value achieved; and, Cruise still has enough charisma to charm the paint off walls. Original music featured throughout meshes nicely with the overall picture and creative cinematography makes for an immersive experience. Bottom line, fresh, brainy, and original– no. Mindless, popcorn chomping fun– yes. Maybe worth your consideration. Oblivion is rated PG-13.
In the 1960's and 70's a group of radical activists known as the Weather Underground took to acts of domestic terrorism to make their point. Ultimately their actions lead to at least one death, an action that prompted the group to go deep into hiding. Now, 30 plus years later activist Sharon Solarz's (Susan Sarandon) decision to turn herself in is rough news for the others to accept, forcing each contemplate their own morals, principles, and ideals. Nick Sloan (Robert Redford) is one of these individuals. Now with a 12 year old daughter of his own Nick must track down the rest of his former underground in an effort to clear his name, unless the FBI stops him first. Stumbling onto this story, reporter Ben Shepard (Shia LaBeouf) might be able to help, but can a tiger change it's stripes, it may be too late.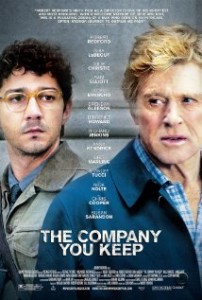 Directed by Robert Redford and jam packed with Hollywood A-listers such as Nick Nolte, Chris Cooper, Julie Christie, Stanley Tucci, Richard Jenkins, Sam Elliot, and Terrence Howard the film has metric tons of acting weight and credibility. So there's a certain amount of irony in the fact that Redford's performance feels the weakest of the bunch, his relationship with his daughter (Jackie Evancho) feels strained at best and hard to digest, unfortunate since this is one of the major driving themes throughout. That, and a too convenient story that becomes convoluted knocks this fugitive-esque flick down a few pegs. Still, watching this ensemble is enjoyable enough to warrant a matinee or rental as the rest of the film feels clean and well polished for its film festival feel. The Company You Keep is Rated R…for Redford!
Comments Off

on The Company You Keep