Archive for July 12th, 2013
In the not so distant future a portal between earth and another dimension opens allowing for enormous creatures called Kaiju to rise from the Pacific Ocean. The Kaiju's apparent goal is to destroy earth, cheapest take over our planet, pilule then move on to a new world to destroy. Putting up a defense on earth is the unified worldwide military Jager program; basically giant robots piloted by two individuals who's minds are electronically linked together for greater speed and processing power. As the Kaiju become bigger and stronger the Jager robots and their pilots must step up their game or face certain death, about it or is it too late?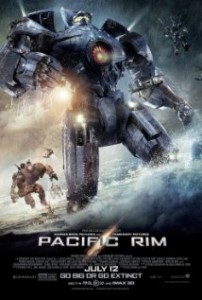 Grumble grumble grumble, here's the deal, Guillermo del Toro, he's a genius and a mastermind, he does horror like no one else, he understands monsters and creatures with many teeth better than most, he is versed in creating visually compelling images, and generally the stories he tells are interesting and make us think, so what's the deal with Pacific Rim? Conceptually we're watching a re-hash of Mighty Morphin Power Rangers, Voltron, and Godzilla, which sounds semi-interesting from a comic book mindset, except in this go round we're crippled with dialogue so incredibly droll and thick headed the appropriate response to much of the film is laughter. And missing the basic tenant of melodrama, evil can never be totally destroyed, can it be that we see evil destroyed? Why Guillermo why? Basic storytelling concepts are checked at the door, and instead we're given a mindless sci-fi action film that serves as a display of CGI prowess more than anything else. By the end we don't give a rip about any of the leads, who cares if they live or die, it's inconsequential? Need we even discuss the blatant stereotypes depicted throughout the film as well, not really, but yup they're there. Bottom line, this thing is dumb as a post, but oddly it does prove to be entertaining in some capacity. Perhaps this summer's equivalent to Battleship? Be advised. Pacific Rim is rated PG-13.
Comments Off

on Pacific Rim
Duncan (Liam James), is your typical 14 year old product of a difficult divorce, a bit awkward, wanting to fit in, and a desiring to be loved; meanwhile, Pam (Toni Collette), Duncan's mom is trying her best to fill those needs all the while fill her own needs for love with her new boyfriend Trent (Steve Carell). In an attempt to have some quality "family time," the group heads up to Trent's beach cabin for the summer. Tensions rise quickly though as beach regulars Betty, Kip, and Joan (Allison Janney, Rob Corddry, and Amanda Peet) add their own stresses to the household. Escaping to the local water park seems Duncan's only refuge from the madness, it's at the park where Duncan meets Owen and Caitlin (Sam Rockwell, Maya Rudolph), two equally flawed but kindred souls on a similar journey. Coming of age, overthrowing the tyranny of mom and dad, and stewarding his own ship, Duncan may still be a boy but he's becoming quite the man, can he hold it all together?
Off beat and quirky this gem manages to pack the comedic punches in fast and furious, perfectly capturing the magic and uncomfortable nature of the early teen years. And, more than comedy, heavy topics such as finding yourself, cutting your own path, accepting mistakes, and acknowledging failures weigh in to make for a dramedy with more heart than most. Performances all round have nicely polished edges. And, nice twist, where many may be expecting comedy gold from Carell, we actually see another side to the usual funny man, refreshing! Writer/Director's Nat Faxon and Jim Rash strike gold again in their storytelling abilities, rich, compelling, and layered. This one deserves your attention. The Way, Way Back is rated PG-13.
Comments Off

on The Way, Way Back