Archive for August, 2013
When we last checked in, mild mannered Dave Lizewski (Aaron Taylor-Johnson) seemed to have found his calling as a masked crime fighting vigilante known as Kick-Ass. Now that time has passed a small group of civilians have taken Dave's call to arms to heart and created a small army of everyday super heroes. Lead by Colonel Stars and Stripes (Jim Carrey), Dr. Gravity (Donald Faison), Night Bitch (Lindy Booth), Battle Guy (Clark Duke), and Tommy's Parents (Steven Mackintosh, Monica Dolan) are well on their way to making a positive difference in the community. So, when Dave joins the group his hopes and dreams seem actualized; but in his heart, nothing can take the place of his close friend and once partner, Hit Girl (Chloe Grace Moretz). Of course, super villain Chris D'Amico/Red Mist (Christopher Mintz-Plasse) still has unresolved revenge plans for Kick-Ass after their last battle– resulting in a hired group of super villains, most notably Mother Russia (Olga Kurkulina). The table is set for ultimate battle, survival won't be easy and it will most definitely mean actions defying parents orders. Who will live to fight another day, and is there anything that will possibly convince Hit Girl to don the cape and fight the good fight?
Partially penned by comic book heavy weight Mark Millar, this irreverent and politically incorrect comedy/action/pulp/exploitation will offer fans plenty to sink their teeth into. Heavy duty action with dialogue sharpened like a rusty can, if you're looking for a deep and thoughtful plot, look elsewhere. But serious inertia propels the choreography making for seat squirming thrills, chills, and spills. And, while the shock of the original concept may have dulled a bit, as a continuation of Kick-Ass, a sufficient diet of empty fun carbs is clearly on the ingredient list. Perhaps a matinee, maybe more. Kick-Ass 2 is rated R.
Comments Off

on Kick-Ass 2
In the year 2154 the wealthiest of the human race have all left earth to live aboard an oasis of health and abundance known as Elysium. The rest of mankind has been left to live in squalor and filth providing for Elysium. In a horrible turn of events, working class Max (Matt Damon), is exposed to a lethal does of radiation. Responding in desperation to save his own life Max takes up what could be a suicide mission; stealing valuable and deadly information from the mind of a military supplier (John Carlyle). Now hunted by Elysium's head of defense, Delacourt (Jodie Foster), Max will need to outsmart Delacourt's most dangerous agent, Kruger (Sharlto Copley). Assisting him, Max will need the help of several friends, most notably medic and lifelong friend, Frey (Alice Braga), and the clever hacker specialist known as Spider (Wagner Moura). It's an uprising of the 99% that starts with one man, but will he live to see his own impact?
Written and directed by Neill Blomkamp the same creative engine behind District 9. Thinly veiled political subtext screams at the viewer with a poetic brush. Top notch acting from Damon, Foster, and Copley all lead to well outlined characters and personalities. Well thought out cinematography effectively draws the viewer into the story further. And, while the plot isn't overly complex and new in it's structure, it is still effective. For the sci-fi/action buffs, this here's a solid performer that doesn't overstay its welcome, 109 minutes, how refreshing. Worth your time, Elysium is rated R.
Percy Jackson (Logan Lerman), son of Poseidon, is thrown into peril as the "Safe Haven" of half bloods is compromised. Now it's up to Percy, Clarisse (Leven Rambin), Grover the Satyr (Brandon T. Jackson), and Tyson the Cyclops (Douglas Smith) to head to the Sea of Monsters in search of the Golden Fleece. Along the journey the group realize what evils are really at hand; attempts are being made to raise Cronos, father of the gods of Olympus. Now it's a race against time to stop cronos and save the half bloods. But what of the prophecies and the half blood daughter of Zeus?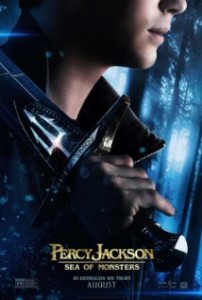 Perfectly mediocre greek lore shoehorned into fantasy fic for the whole family. A bit long in the tooth, this semi bloated story doesn't seem to know when to call it quits or how to be more direct. So, while we're given plenty of action, the overall blur becomes a bit much. Acting overall seems okay, the one standout of real note is Stanley Tucci, but we're not talking Oscar nods here. Maybe a matinee if you're following the storyline so far, otherwise really well balanced for a rental. Percy Jackson: Sea of Monsters is rated PG.
Comments Off

on Percy Jackson: Sea of Monsters