Archive for August 9th, 2013
In the year 2154 the wealthiest of the human race have all left earth to live aboard an oasis of health and abundance known as Elysium. The rest of mankind has been left to live in squalor and filth providing for Elysium. In a horrible turn of events, working class Max (Matt Damon), is exposed to a lethal does of radiation. Responding in desperation to save his own life Max takes up what could be a suicide mission; stealing valuable and deadly information from the mind of a military supplier (John Carlyle). Now hunted by Elysium's head of defense, Delacourt (Jodie Foster), Max will need to outsmart Delacourt's most dangerous agent, Kruger (Sharlto Copley). Assisting him, Max will need the help of several friends, most notably medic and lifelong friend, Frey (Alice Braga), and the clever hacker specialist known as Spider (Wagner Moura). It's an uprising of the 99% that starts with one man, but will he live to see his own impact?
Written and directed by Neill Blomkamp the same creative engine behind District 9. Thinly veiled political subtext screams at the viewer with a poetic brush. Top notch acting from Damon, Foster, and Copley all lead to well outlined characters and personalities. Well thought out cinematography effectively draws the viewer into the story further. And, while the plot isn't overly complex and new in it's structure, it is still effective. For the sci-fi/action buffs, this here's a solid performer that doesn't overstay its welcome, 109 minutes, how refreshing. Worth your time, Elysium is rated R.
Percy Jackson (Logan Lerman), son of Poseidon, is thrown into peril as the "Safe Haven" of half bloods is compromised. Now it's up to Percy, Clarisse (Leven Rambin), Grover the Satyr (Brandon T. Jackson), and Tyson the Cyclops (Douglas Smith) to head to the Sea of Monsters in search of the Golden Fleece. Along the journey the group realize what evils are really at hand; attempts are being made to raise Cronos, father of the gods of Olympus. Now it's a race against time to stop cronos and save the half bloods. But what of the prophecies and the half blood daughter of Zeus?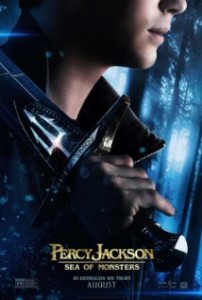 Perfectly mediocre greek lore shoehorned into fantasy fic for the whole family. A bit long in the tooth, this semi bloated story doesn't seem to know when to call it quits or how to be more direct. So, while we're given plenty of action, the overall blur becomes a bit much. Acting overall seems okay, the one standout of real note is Stanley Tucci, but we're not talking Oscar nods here. Maybe a matinee if you're following the storyline so far, otherwise really well balanced for a rental. Percy Jackson: Sea of Monsters is rated PG.
Comments Off

on Percy Jackson: Sea of Monsters
Low grade dope dealer David (Jason Sudeikis) finds himself in a rough spot after he's robbed of everything he owes his boss, Brad (Ed Helms). To pay off his debt and pocket some extra green on the side, David concocts the idea of smuggling a considerable amount of Marijuana into the country using a motorhome all the while hiring unlikely faces from his neighborhood to pose as his family– the Millers. The catch is that his "wife" Rose (Jennifer Aniston) and his "son and daughter" (Kenny Rossmore and Casey Mathis) have all bit off more than they can chew; instead of doing the job as proposed, it turns out the Millers are actually robbing a major cartel kingpin. Comedy ensues, now to get back into the U.S., make the drop, and survive; and what's this about love in the air?
While not a total dog, We're the Millers seems to have fallen prey to a rough case of "Trailer Giveaway Syndrome," an unfortunate malady that will leave viewers with little left to look forward to in theatres, stale writing and sluggish pace don't help this predictable comedy attempt. Still acting from the ensemble all feels all right, and bit parts from Nick Offerman and Kathryn Hahn round things off nicely. Perhaps a rental? We're the Millers is rated R.
Comments Off

on We're the Millers