Archive for February 20th, 2015
Based on the true story of coach Jim White (Kevin Costner), a football coach turned cross country coach in a small California town known as McFarland; this is the story of not only one man's enlightenment to his new community but a new found respect for the lives of his students, helping them find their potential, and driving them to become championship contenders.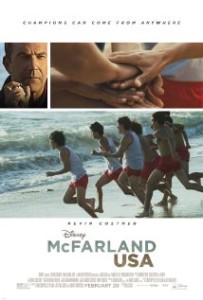 Written by Christopher Cleveland (Glory Road) and directed by Niki Caro, this Disney film has all of the hallmarks of the typical feel good sports story, the underdog that wins the fight; and, by all means that might sound un-appealing, especially considering the relative un-sexy nature of cross country running (as a former cross country runner let me tell you, nothing says sexy like racing up and down hills for miles until you puke, yeah, that happens, more than you'd think). Sex appeal aside, what makes this film interesting and compelling is its heart. Even though we already know exactly where this is going from frame two, Costner's ability to sell the role as "Coach" is second to none, and, the appeal to the audience to root for the little guy works on an emotional level to the point there's a good chance you'll find yourself quietly cheering on the runners, applauding their victories. Textbook inspiration for the whole family, and fairly earned, worthy of your time this weekend, McFarland, USA is rated PG.
Comments Off

on McFarland, USA
Years after their first dip in the hot tub time machine Lou, Nick, and Jacob (Rob Corddry, Craig Robinson, and Clark Duke) are put in the precarious position of needing the tub's assistance once again. Blasted 10 years into the future, poor life choices and parallel universes have things crossed dramatically once again. Righting wrongs, saving the day, and becoming better people is the goal, time machine or not, is it already too late?
Written again by Josh Heald and directed again by Steve Pink this delve in to adult/adolescent humor is just as raunchy and mindless as one would expect with the added zing factor of freestylings from several naturally funny men and women. But how does one quantify humor, such a touchy fickle subject? Hard to say, but, if your inner 13 year old is alive and well, your adult self is probably going to find a modicum of laugh out loud moments, albeit, sometimes the easy blue humor card is chosen, but can we fault the film makers? Nobody seems to be taking anything terribly seriously here anyway. Perhaps more enjoyable than you'd give it credit, a rental later or matinee for the deprived this weekend, Hot Tub Time Machine 2 is rated R. Oh, by the way, there is No John Cusack in this gem, so there's that.
Comments Off

on Hot Tub Time Machine 2
Semi socially introverted Bianca (Mae Whitman) is an intelligent and introspective High School senior tasked with writing the lead article for the school newspaper regarding what Homecoming means to her. Problem is, Bianca doesn't have a date for the dance and in the social hierarchy she's more of a supporting member to her more "attractive" friends Casey and Jess (Bianca Santos, Skyler Samuels). Upon this realization, Bianca's drive for acceptance and social change is driven to the next level. Oh to achieve High School glory, and what about dreamy Toby (Nick Eversman), will Bianca ever find love?
Directed by Ari Sandel, this teen angst tale of woe doesn't exactly break new ground but does build nicely on the fast talking whip smart dialogue we've seen in the totally unrelated Juno (2007); therefor raising the bar of this potential "after school special" and creates something with considerably more sass, heart, and charm. Of course the plot goes exactly where expected, but that's almost okay because we're excited to hear what Bianca might say next as her "no filter" verbiage spills forward in a torrent of emotion. Matinee or rental for the teen-ish or more audience, The DUFF is rated PG-13.