Archive for March 13th, 2015
After loosing both birth parents to various sicknesses, a young Ella (Lily James) finds herself at the heel of her wicked stepmother and step sisters (Cate Blanchett, Sophie McShera and Holiday Grainger). But following the rules of kindness and courage Ella seems poised to succeed, that is, until one fateful night her spirit is almost completely broken. With the help of her Fairy Godmother (Helena Bonham Carter) there might still be a chance to set things right and perhaps find a partner in the form of Prince Kent (Richard Madden). If Only?
Following the original fairytale closely but with an emphasis on power within the relationship and gender equality writer Chris Weitz and Director Kenneth Branagh have created perhaps the most balanced and empowering Cinderella to date. Not just a damsel in distress in need of a man to save her, Weitz and Branagh's Cinderella gives life to a woman who can stand on her own and also enjoy the company of an equal without being heavy handed. Meanwhile, acting all round seems on par with standouts from Blanchett and Helena Bonham Carter wicked and weird, fun for the family awaits you. Cinderella is rated PG.
Comments Off

on Cinderella
Residents of Detroit are haunted by a bizarre menacing force that picks its victims based on their sexual activity; passed like an S.T.I. Jay Height (Maika Monroe) finds herself in the crosshairs of "it," but losing "it" won't be easy. How will she ever manage?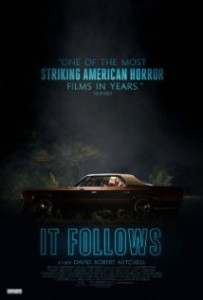 Written and Directed by David Robert Mitchell, this ear bending twist on the classic horror concept of promiscuity's link to death gives fresh food for thought in what feels like a heart felt homage to countless horror pics from the 70's and 80's. From the less polished cinematography and overall cinematic look to the accompanying synth pad soundtrack/score the whole production has a time capsuled feel that feels as though it's finally risen from the vaults to haunt us today, years since its creation, after all, true evil can never be totally destroyed– remember that one. In the mood for a good old fashion haunting, with a dash of humor on the side? You've come to the right place. It Follows is rated R.
Comments Off

on It Follows