Archive for June 19th, 2015
Uprooted from her life in the Midwest, Riley (Kaitlyn Dias), a young girl coming into her own is conflicted by the emotions personified in her head; there's Joy (Amy Poehler), Sadness (Phyllis Smith), Fear (Bill Hader), Anger (Lewis Black), and Disgust (Mindy Kaling). As it were, Joy and Sadness find themselves whisked to the depths of Riley's mind by mistake, meanwhile Fear, Anger, and Disgust are left to run the show. Probing the depths of memories, Joy and Sadness are in desperate need to return to headquarters in order to prevent Riley from losing everything she stands for, it might even take the help of Riley's old imaginary friend Bing Bong (Richard Kind). Will the two find success before Anger's plan to build new core memories takes hold and imbalances the whole system?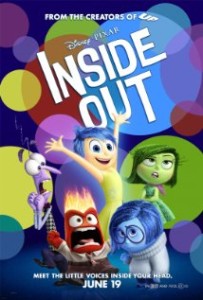 Directed by Pete Docter and Ronaldo Del Carmen, this fantastically simple look into the human psyche holds more truths than the average college Psych 101 course and delivers smart comedy the entire time, tough balance, but skillfully pulled off. Well plotted characters and clever insight into the workings of the human mind makes this breezy watch fly by with genuine high's and well deserved lows. Totally worthy of your time, Inside Out is rated PG.
Comments Off

on Inside Out
Neurotic, precocious, and self loathing Greg (Thomas Mann) is just trying to survive high school as an acquaintance to all but friend to only Earl (RJ Cyler). So, when Greg's mom (Connie Britton) tasks him to step outside his comfort zone and offer support to Rachel (Olivia Cooke), a classmate recently diagnosed with Leukemia, friendship is the furthest thing from his mind, and yet it's inevitable. While battling her sickness Greg and Earl take on a new cinematic project; together the two have re-created over 40 classic films in their own quirky and absurd way, now it's time to honor Rachel in a film that's just for her. But in this case, finishing the film might cause their friendships to end, how to grow and reconcile?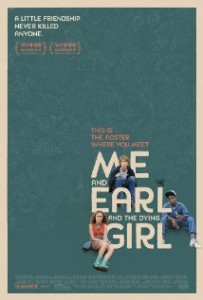 Written by Jesse Andrews and Directed by Alfonso Gomez-Rejon, this adaptation of Andrews' novel is a perfect combination of creative flavors, hilarious comedy with strong drama, rich three dimensional character study and development, cinematography to match the film's teenage filmmaker mindset, and a wildly talented cast. A coming of age story tilted on it's ear that makes for plenty of thought provoking and relatable moments, and doesn't pull it's punches, literally. This is one not to be missed. Me and Earl and the Dying Girl is rated PG-13.
Comments Off

on Me and Earl and the Dying Girl