Archive for August 28th, 2015
Four lifelong friends from North Hollywood striving to get out and make their mark on the world learn life lessons and the meaning of irrevocable. One mistake away from greatness or total failure Cole, Mason, Ollie, and Squirrel (Zac Efron, Johnny Weston, Shiloh Fernandez, Alex Shaffer) will have to bond together and break apart in order to succeed. For aspiring D.J. Cole that will mean finding his own voice while caught between friends, his idol (Wes Bentley), and his idol's girlfriend (Emily Ratajkowski); rising to meet the occasion will take everything he's got.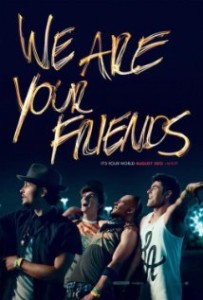 Directed and partially written by Max Joseph this relatively straightforward coming of age story sets up with some interesting promise and intelligent insight into the world of E.D.M. but ultimately falls prey to a plot line we've seen a million times before and better. Furthermore and sadly, at the film's apex an unfortunate ironic parallel is made, a much anticipated musical composition that's supposed to blow our minds crashes to the same fate as the plot line, what was interesting becomes just another dance track that thumps away, soulless. Still, the camaraderie and charisma of the ensemble keeps this film just above the horizon. Maybe a matinee but really a rental for mindless entertainment. We Are Your Friends is rated R.
Comments Off

on We Are Your Friends