Archive for November 6th, 2015
Following a cryptic message, 007 James Bond (Daniel Craig) trails back to the creator of all of his life's pain, his arch nemesis (Christoph Waltz) atop a secret sinister organization known as Spectre. Meanwhile, a political battle is brewing in London, M (Ralph Fiennes) will have to fight to keep the British secret service active and alive, but what if it's too late, Bond could be done for multiple reasons.
Playing out as almost like a greatest hits of James Bond history, and not just the Daniel Craig years, but the whole Bond anthology, there's little that hasn't been done before this go round; but, that's not to say the film is bad or uninspired. In fact, from a cinematography standpoint, the film is beautiful with impressive sequences and fantastic camera coverage, one would just hope for perhaps something new and imaginative script wise, sad trombone there, womp womp. But did I mention gadgets? Oh yes, gadgets are back, mind you reserved, but back, whew; Bond without gadgets is like a martini without an olive, still good, but missing….something. Chemistry between Craig and leading lady Léa Seydoux is sadly uninspired, but time spent with the regal and unfaltering Monica Bellucci sends sparks flying, well played 007, well played indeed. Bottom line, this isn't top of the pile for the Daniel Craig years, nope, but it sure ain't no Moonraker either. Go see it and enjoy the Bond references, nods and callbacks….EVERYWHERE!!! Spectre is rated PG-13.
Working to bring women the right to vote, the early feminist movement would send thousands of women to jail, and force thousands more to organize and fight from the underground. Suffragette is the tale of some of the early foot soldiers in the movement.
An all star cast including Carey Mulligan, Helena Bonham Carter, and Meryl Streep brings this weighty docudrama to life with Direction from Sarah Gavron and screenplay by Abi Morgan. Important in its historical implications and lessons and even more important now as there are still countries bent on the oppression of women's rights, this is a story that cannot be forgotten. Solid production quality, solid acting, solid material, a winner for those looking to fill their minds with a solid education. Suffragette is rated PG-13.
Comments Off

on Suffragette
The friendship between two lifelong friends, Jess and Milly (Drew Barrymore, Toni Collette), both with enough dirt to bury each other several times over, is put to the test as one falls fatally ill and the other pregnant. Navigating life, men, and careers has never been so hard, how to endure or crumble?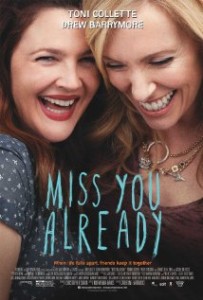 Written by Morwenna Banks and Directed by Catherine Hardwicke the depth and well roundedness of the two leads makes for a story that feels as though it could be any two good girlfriends, easily relatable, complete with full drama. And, while the film does lean on the crutch of voiceover narration for multiple passages, and a few cliche settings, the positives from Collette's performance still far outweigh the detractors in this case. Simple in its course plotting overall but heavy in the emotional journey, the end payout is impactful even if we already know the destination. Looking for your painfully accurate punch in the feels, here's your ticket this weekend. Miss You Already is rated PG-13.
Comments Off

on Miss You Already