Archive for April 8th, 2016
Incoming college freshman and baseball pitcher Jake (Blake Jenner) is welcomed into his new housing situation by fellow teammates; a quasi Animal House setting in 1980 Texas. Paired up with fellow ball players including Finnegan, Dale, Roper, and Plummer (Glen Powell, J. Quinton Johnson, Ryan Guzman, and Temple Baker) just to name a few, the team is learning to navigate life without adult supervision, the question is, what kind of life do they want to lead?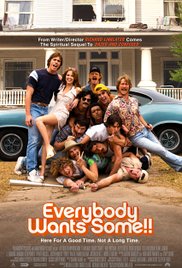 Written and Directed by Richard Linklater once again we are taken into another immersive boy coming of age tale, told with a subtle series of mini arcs, this is a film that works as a collection of scenes that speaks of a window of time but not of a complete story– more so this is a film that introduces us to a group of archetypal jock/frat college boys, and allows us to effectively marinate in their experience without the smell of icy/hot and threat of being snapped by a towel. A bit slow to roll into the comedy, and the laugh meter doesn't ever really seem to peak off the charts, none the less the film almost demands a second viewing to commit some of the comedic pearls of wisdom to memory. A great reminder to your college years when you were wild and credulous and an ensemble that knocks it out of the park literally and figuratively. Everybody Wants Some is rated R.
Comments Off

on Everybody Wants Some