Archive for April 15th, 2016
Combining Disney's nearly 50 year history with Rudyard Kipling's The Jungle book, audiences old and new are being re-introduced to the man-cub Mowgli (Neel Sethi), a young boy separated from humans and raised by wolves and a leopard named Bagheera (voiced by Sir Ben Kingsley). Threatened by a tiger, Shere Khan (voiced by Idris Elba), Mowgli leaves his wolf pack to return to civilization, but along the way is met by several colorful characters of the jungle, in particular Baloo the bear (voiced by Bill Murray) and King Louie the orangutan (voiced by Christopher Walken). But is returning to humanity really in the cards for Mowgli, and what of this illusive red flower?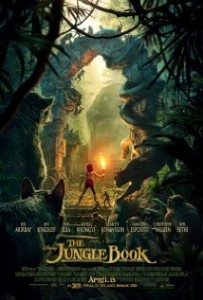 Directed by John Favreau, this digital spectacle of live action and animation creates a jungle world that seems remarkably possible and real despite the impossible nature of the entire story. Meanwhile, voice talent from a handful of Hollywood's favorites and eccentrics adds extra punch, although even as a self professed Christopher Walken fan, I personally found it difficult to allow the man to meld with the animal to provide a seamless performance; I was distracted instead– I should be quick to add, this was due to sheer childlike delight in what I was watching. All told, Disney's got a winner but 3D is not necessary, quick aside, this may be a film that's a bit extreme for the little little ones, parents, The Jungle Book is rated PG and not G for a reason, don't say I didn't warn you.
Comments Off

on The Jungle Book