Archive for May 6th, 2016
Having saved the planet from the hands of evil doers multiple times the people of earth have grown weary of the unchecked actions of the Avengers; after all, not all of their victories were bloodless and many innocent died or were injured as collateral damage. So, when the U.N. steps in to place sanctions and restrictions on the Avengers party lines are drawn, those who'll side with the U.N. and those who choose to fight crime based on principle. Meanwhile, a new enemy has an agenda that might just put a stop to the Avengers regardless of politics, will Captain America (Chris Evans) and Tony Stark/Ironman (Robert Downey Jr.) be able to put their quibbles aside long enough to save the world one more time?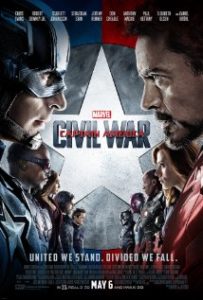 Directed by Anthony and Joe Russo this Marvel mega pic provides solid ground to tread on combining a powerhouse ensemble including Scarlett Johansson, Jeremy Renner, Don Cheadle, Anthony Mackie, Sebastian Stan, Paul Rudd, Elizabeth Olsen, Paul Bettany, Chadwick Boseman, and Daniel Brühl– effectively pulling up on the yoke and keeping this potentially weighty ship aloft when the tea leaves of graphic novel cinema indicate otherwise. Coupling a frenetic pace, sharp CGI, and balanced time with each appropriate superhero, audiences will find a lot to like with this latest twist in the tale of comic goliaths, entertaining to the very last drop, speaking of which, remember to stick this one out all the way through the end credits; and, with a run-time of 2 hours and 26 minutes go easy on that thirsty two ouncer, playing bladder buster 2016 is a roulette not worth risking….good luck with that. Worth it, Captain America: Civil War is rated PG-13.
Comments Off

on Captain America: Civil War