Archive for May 13th, 2016
Financial News Network host of the stock tipping program Money Monster, Lee Gates (George Clooney) is brought into the line of fire, literally, when a disgruntled viewer (Jack O'Connell) sneaks on set with the intent of exposing fraud in the financial system. Backed into a corner and pressed for time it's now up to Producer/Director Patty Fenn (Julia Roberts) and her team to find out what dirty dealings financial group Ibis Clear Capital did to lose 800 million dollars in one day in order to end a hostage situation with catastrophic potential.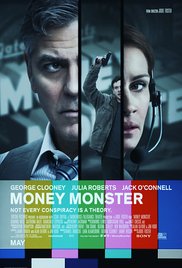 Directed by Jodie Foster, big money is square in the cross hairs again, this time looking towards the corrupt nature of a few as opposed to the system as a whole with a solution and justice found in real-time, perhaps a little too convenient, but thrilling none the less. Solid performances from the ensemble make this roller coaster seem even that much more plausible, and, told in a brief 98 minutes, welcome's are not overstayed either. Looking for that suspenseful fix with a dash of humor you've come to the right place. Worthy of at least a matinee, Money Monster is rated R.
Comments Off

on Money Monster
Just before World War I India was very much oppressed and under England's thumb, so, when the brilliant mind of Srinivasa Ramanujan (Dev Patel) emerged with revolutionary ideas in mathematics doubters and skeptics of the man were plentiful; were it not for the help of Cambridge University professor G.H. Hardy (Jeremy Irons), there's a strong chance Ramanujan would have taken his knowledge to the grave. Reaching for greatness and publishing were the goals, but just how much and how quickly would the world take notice?
Playing out as almost the Indian version of a Beautiful Mind Writer/Director Matt Brown has managed to put together a fantastic cast featuring a ton of England's heavyweight talent including Toby Jones, Stephen Fry, Malcom Sinclair, Jeremy Northam, Richard Cunningham, the list goes on. Sadly, despite the talent of the ensemble and strong leading performances from Irons and Patel the overall story remains about as bland as traditional English cuisine, lacking any spice at all. Technically proficient, the film also manages to go through all of the motions of cinema without creating an extraordinary experience to equal that of the minds it's attempting to reflect. The Man Who Knew Infinity is rated PG-13.
Comments Off

on The Man Who Knew Infinity