Archive for May 27th, 2016
Years after jumping down the rabbit's hole, Alice (Mia Wasikowska) returns to Wonderland to find the Mad Hatter (Johnny Depp) in an emotional downturn and mourning for the loss of his family. But, in order to bring the hatter back to his normal spry self a journey across the seas of time and a consultation with Time personified (Sacha Baron Cohen) will be necessary. The journey will not be easy and Alice, having not lived in Wonderland forever, is the only hope; meanwhile, Queen Iracebeth (Helena Bonham Carter) has plans of her own to right the past and return to power. Walking the razor fine line across time will take all of Alice's skill to maneuver, but what if she's already too late?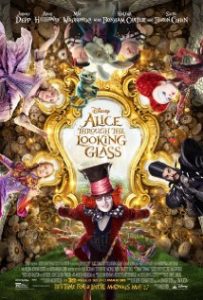 Built on the foundation of Lewis Carroll's books Director James Bobin takes the helm from Tim Burton on this leg of the journey to create an extension of Wonderland that fits nicely with 2010's Alice in Wonderland and actually creates a more cohesive product. Visually the art department and computer animators continue to create amazing sights and awe, but for those looking for true to form words and writings from Carroll, you'll have to keep searching, this is still a story merely based on the themes of Carroll's books, and while perhaps not as vapid as it's predecessor, it's heart and core are still a bit thin. On the positive, despite the film largely being about the Mad Hatter, Bobin successfully manages to keep the film off of Depp's shoulders allowing some of the other star power to carry the load, a definite improvement. Score from Danny Elfman is nicely married to this film as well, this go round showing his growth and depth as a composer. Bottom line, family fun as a matinee wouldn't be too far to go this Holiday weekend. Alice Through the Looking Glass is rated PG.
Comments Off

on Alice Through the Looking Glass