Archive for June 3rd, 2016
Childhood friends and teen pop sensations the Style Boyz have long since gone separate ways for many reasons, but when lead singer and front man Connor4Real's (Andy Samberg) latest album tanks, deep soul searching will be required to get his career back on track, it may even lead to a re-formation of the Style Boyz including members Owen (Jorma Taccone) and Lawrence (Akiva Schaffer), or is it all too late?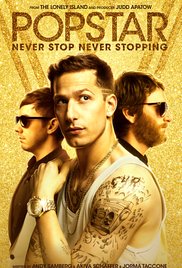 Poised to become the Spinal Tap of this generation, the Lonely Island boys have written a quick paced low down dirty good time in mockumentary format; a film that serves not only as a love letter to the music industry but also a middle finger, message received and it's glorious. Pulling in one cameo appearance after another this veritable who's who of music leaves almost no stone unturned; meanwhile, the musical prowess behind the soundtrack to the film is actually kind of respectable. Comedy trimmed lean with little gristle, no time is wasted in this brief 86 minute romp that is totally worthy of your time. Best and most consistent laughs of the year so far, Popstar: Never Stop Never Stopping is rated R.
Comments Off

on Popstar: never stop never stopping
On a mission of destruction, leader of the foot clan, Shredder (Brian Tee), is freed from prison with the help of Dr. Baxter Stockman (Tyler Perry) and henchmen BeBop and Rocksteady (Gary Anthony Williams and Sheamus). Meanwhile, the ninja turtles are still wrestling with their own coming of age and desire to be seen for who they are until reporter April O'Neil (Megan Fox) tips them off to Shredder's evil plans– and an even more nefarious baddie, Krang (Brad Garrett). Sounds like turtle power will be necessary to save New York again.
Written with the mind numbing exposition of Saturday morning cartoons Director Dave Green has certainly created a CGI spectacle combining smidges of live action with a majority of digital wizardry. Sadly, for all of its technical bells and whistles the end result is a painful 112 minutes of semi-phoned in acting. Perhaps holding value only to those who grew up with the Turtles as icons, this one's best left as a pass. Teenage Mutant Ninja Turtles: Out of the Shadows is rated PG-13.
Comments Off

on Teenage Mutant Ninja Turtles: Out of the Shadows