Archive for October, 2016
Raised in a militant household, Christian Wolff (Ben Affleck) is a man diagnosed with a form of high functioning Asperger's syndrome who functions as a mathematical savant. Tutored by a mafia tax accountant (Jeffrey Tambor), Christian uses his talents to uncook the books of the world's top criminal organizations, an act that's garnered the attention of the Treasury Department. Sought by the feds as well as his clients, the ensuing trail of carnage will reach unexpected proportions, and, just how well will possible love interest Dana (Anna Kendrick) take to Christian's mysterious lifestyle.
Directed by Gavin O'Connor this blending of genres takes multiple working models and nicely melds them all together to create a Jason Bourne/Beautiful Mind hybrid; an unlikely pairing that actually seems to work. And, while fairly conventional in character setup and development, we've seen all these pieces and methods used many times over, it's the sum of their parts together that keeps this thriller fun to the end, even when we've guessed the last few turns before the film reaches the finish line. It's also apparent that no stretching was required from the ensemble including heavyweights J.K. Simmons and John Lithgow, but that doesn't stop the fun either, sometimes it's good to see great actors doing what they do best with material they're known for. Worthy of your time this weekend. The Accountant is rated R.
Comments Off

on The Accountant
Swirling in memories obscured by alcohol semi-recently divorced Rachel (Emily Blunt) finds herself stuck in limbo circling old haunts. But, as fate would have it, Rachel finds herself deeper in the mire as she becomes a witness to the murder of young Megan (Haley Bennett). Following her own internal compass to find clarity and truth will get deeply personal, and then, just how exactly are ex-husband Tom (Justin Theroux) and his new girlfriend Anna (Rebecca Ferguson) involved in the matter?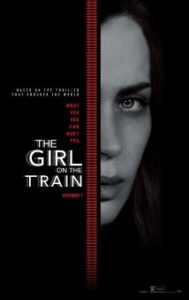 Based on the novel by Paula Hawkins and Directed by Tate Taylor this moderately dizzying dramatic whodunit best achieves it's obscurity out of the gates in act one but seems to lose a lot of its mystery by the time act three rolls round for the final reveal. Analeptic jumps and exposures, some of which feel awfully convenient for the sake of story telling, the film seems to suffer from its own devices falling flat followed by an eye rolling epilogue. Mind you, all the players fit the bill and rise to the occasion, but there aren't really any long reaches in character development either. Financially speaking, okay for a matinee with moderate expectations, but really more of a rental, The Girl on the Train is rated R.
Comments Off

on The Girl on the Train