Archive for November 11th, 2016
One of the U.S.'s top linguists, Dr. Louise Banks (Amy Adams) is called in to help serve her country when a mysterious alien race descends on earth. Tasked with learning the alien's language and intentions Dr. Banks will be strained in ways never thought possible. With the assistance of scientist Ian Donnelly (Jeremy Renner) and Colonel Weber (Forest Whitaker), learning this new alien language will bring new meaning to her life, but, will she be able to crack the language of the visitors before world war breaks out instead?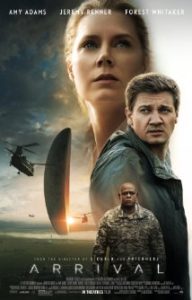 Based on the short story "Story of Your Life" by Ted Chiang and Directed by Denis Villeneuve this examination of language and intent comes with perfect timing when viewed as a metaphor for the political climate of the U.S. at this very moment, looking to founded and unfounded fears of the unknown. Slowly peeling back the onion skin layers of complexity, Adams's performance feels genuine and fully fleshed out, plus support from Renner and Whitaker keep the narrative hovering right in the realm of possibility, just right for sci-fi. Regardless of the fact that act 3 gets a little too tidy perhaps a little too easily, this gem with emotional depth is definitely worthy of your entertainment dollar this weekend. Arrival is rated PG-13.