Archive for December 16th, 2016
Devastated by the loss of his daughter an Ad agency Exec, Howard (Will Smith), has withdrawn from society and taken to writing letters to the esoteric and inanimate figures of Death, Time, and Love. Meanwhile, business partners Whit (Edward Norton), Claire (Kate Winslet), and Simon (Michael Peña) find themselves pressed into a corner, in need of selling the agency. To help Howard and help sell the agency a plan is hatched to hire several actors to play the parts of Death (Helen Mirren), Time (Jacob Latimore), and Love (Keira Knightley), emotional therapy at a whole new level. But, as Howard's therapy progresses, it's evident the rest of the agency may need help as well, will peace be made by all before it's too late?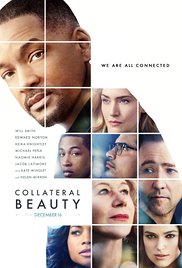 Directed by David Frankel and written by Allan Loeb, this semi supernatural holiday tale has all the hallmarks of works such as Winter's Tale, The Lovely Bones, or A Christmas Carol, bringing a healthy dose of Cheese Whiz to the here and now with an all star cast. A few self important monologues actually manage to carry some weight throughout; but, predictable and telegraphed at each "twist," the reveals exposed in this overly co-incidental series of events payoff with diminishing returns, end result, an attempted tear jerk resulting in more of a smirk. Collateral Beauty is rated PG-13.
Comments Off

on Collateral Beauty