Archive for January 27th, 2017
Following a course of reincarnation, a dog's spirit is left to question its purpose over several lifetimes and several owners, ultimately culminating in answers when finding the same owner twice, once as a boy, Ethan (Bryce Gheisar, K.J. Aha), and again as an adult (Dennis Quaid).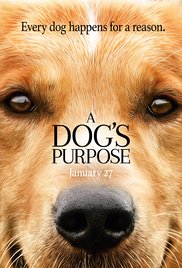 Directed by Lasse Wallström and based on the novel by W. Bruce Cameron this semi ecumenical/spiritual look to our furry best friends makes for a strangely emotional journey despite multiple counts of poorly scripted dialogue and cheese whiz narration provided by Josh Gad. Regardless, following the natural human desire to personify and psychologically impose belief structures on animals makes for enough chuckles and awwww's if you just "go with it," although, we're not witnessing high cinema here. Also of note, the filmmakers have received criticism from animal watch group PETA regarding the questionable treatment of one of the dogs involved in a particular water stunt on camera, a reaction that could possibly deter many film goers. Beyond the protests and the sappy sentimentality, audiences are left with a deliberate heartstring tugger that may be best as a rental, maybe a matinee if you're really pushing it. A Dog's Purpose is rated PG.
Comments Off

on A Dog's Purpose