Archive for August 4th, 2017
In a battle for the security of the universe a powerful extraterrestrial gunslinger, Roland (Idris Elba) is in search of "The Man in Black" Walter (Matthew McConaughey); meanwhile, the troubling dreams that earthling Jake Chambers (Tom Taylor) is sketching might prove to be of assistance in the ultimate battle between good and evil. Traveling through portals of time and space Jake and Roland must partner together in order to defend the Dark Tower.
Directed by Nikolaj Arcel and based on the novels by Stephen King this Sci-Fi romp accomplishes quite a bit in its scant hour and thirty five minutes of runtime; the setup of multiple worlds, the rounding out of its main characters, and the efficient time management of action against dialogue to keep the beats of the film on pace. Seems mostly legit on paper, so what's the catch? The catch is, in the end the audience is left with what appears to be yet another Young Adult adventure reaching for the crown of all that have come before it, The Hunger Games, The Maze Runner, Insurgent, The Mortal Instruments, The Golden Compass, I am Number Four, etc.. And, sadly, there doesn't appear to be enough momentum to break free of earth's massive gravity to really soar to interstellar heights. None the less, Elba's performance gives us meat to sink our teeth into against McConaughey's Christopher Walken/Arch Angel Gabriel inspired villain. You could do a lot worse, but you could also do better, The Dark Tower is rated PG-13.
Comments Off

on The Dark Tower
Fifty years since the Detroit Rebellions the details behind the murders of three young African American men at the Algiers Motel remains largely unknown. Recounting the events in brutal detail based on the testimonies of those who were there, this is their story.
Directed by Kathryn Bigelow and written by Mark Boal this racially charged history piece shines the light of examination on what is clearly a dark and disappointing moment for Detroit, but also calls to question even more recent events in U.S. history. With a powerhouse ensemble including John Boyega, Algee Smith, Jason Mitchell, Will Poulter, and Anthony Mackie to name a few, Bigelow creates an unforgettable piece that squarely places her combat boot on the throat of the viewer, driving her points of racial inequality and abuse of power only letting up after over two hours and twenty minutes, a welcome that does feel overstayed in the last act. Regardless, the pedigree remains high. Detroit is rated R.
Single mom Karla (Halle Berry) is in a custody battle for her young son, Frankie (Sage Correa); meanwhile, a mysterious duo of kidnappers has plans of their own for Frankie. Pushed to her limits Karla will stop at nothing to retrieve her son; but, will her best be good enough?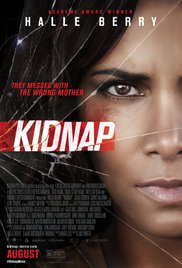 Directed by Luis Preto and Written by Knate Lee this 94 minute minivan car chase aims for high speed thrills and cheap suspenseful spills in what appears to be one of the flattest and most boneheaded stories of 2017. Heavily deploying the editing monsters to create tension out of nothing and cranking the score louder, faster, and with more intensity to drive the film off a proverbial cliff. Merciful in its brevity, pass. Kidnap is rated R.