Archive for October 6th, 2017
In the year 2049 an agent with the LAPD, K (Ryan Gosling), is tasked with tracking down and "retiring" old rogue models of Replicants, humanoid slave bots. But, when a long buried secret is unearthed on the job, K finds himself thrust into a much larger pinwheel of chaos– a battle that could blow society to shambles.
Directed by Denis Villeneuve with cinematography by Roger Deakins and scoring by Hans Zimmer and Benjamin Wallfisch the collective powerhouse of sheer talent involved in this film is already only available in prescription strength; but, coupled with a well thought out screenplay by Hampton Fancher and Michael Green, the 30 year wait for a followup to the original Blade Runner is quickly paid off. A full sensory overload and thoughtful experience, Villeneuve hypnotically takes the time to develop rich themes from Philip K. Dick's original source material to the point audiences may not even notice the runtime of two hours and forty three minutes (to that point skip the 32oz soda before the show). Meanwhile the acting prowess by the entire ensemble sits on top of the pile as we quickly finish out the rest of this year. Blade Runner 2049 serves as a great reminder that well done Sci-Fi films have the potential to change the way we see our own world. Picking out the heavy weights for the weekend, you're picking out Blade Runner 2049, rated R.
Comments Off

on Blade Runner 2049
Stranded in the mountains after a tragic plane crash, Alex and Ben (Kate Winslet and Idris Elba), an unlikely and unrelated pair must forge a connection in order to stay alive in the wilderness and find their way home; but, just how deep and strong will their connection have to go?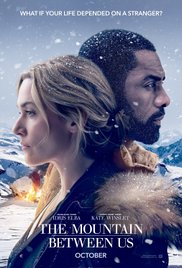 Directed by Hany Abu-Assad and based on the novel by Charles Martin the first two thirds of this film play out remarkably well as our two protagonists soldier their way through the elements; and, the chemistry between Elba and Winslet is undeniable, strong, and authentic. But, coming to terms with the blatant, derivative, and cliche conclusion of the final third is something that remains to be of great effort, an oversold sale that gets worse with age. This dramatic thriller gone romance goes sour fast in the final critical moments. Wait for its appearance on the Lifetime channel in a few months, The Mountain Between Us is rated PG-13.
Comments Off

on The Mountain Between Us.