Archive for December, 2017
As the cold war is warming up janitors Elisa and Zelda (Sally Hawkins and Octavia Spencer) are two friends working inside a government research facility in the 1960's, an unfulfilling and dead end job. But, when tough guy Richard Strickland (Michael Shannon) arrives with a strange amphibious creature (Doug Jones) for further study, an unlikely and fulfilling relationship is made.
Directed by Guillermo del Toro this buffet of cinematic beauty combines the cinematography of Dan Laustsen, the music of Alexandre Desplat, and the creative writing brain of Guillermo del Toro and Vanessa Taylor. End result, the creation of a stunning film aimed at whimsy, entertainment, and relevant political discourse regarding race, sexuality, and military action. This twist on a classic fairy tale sits nicely with del Toro's catalog of monsters and creatures supported by a well toned ensemble of talent performers. Worthy of your entertainment dollar, The Shape of Water is rated R.
Comments Off

on The Shape of Water
A 1950's semi-transient family living and working on Coney Island, Humpty (Jim Belushi), Ginny (Kate Winslet) and her pyromaniac son Richie (Jack Gore), are struggling to make ends meet when Humpty's estranged daughter, Carolina (Juno Temple), arrives seeking help. Neglecting Ginny, staying off the sauce, and now torn about caring for his daughter Humpty has some serious thinking to do; meanwhile, Ginny's interest in heartthrob lifeguard Mickey (Justin Timberlake) adds an angle of complication just the same. Leave it to the mob to show up and ruin everything, this can't end well, or can it?
Written and Directed by Woody Allen this period piece drama with schadenfreude comedic tendencies sets out with the best intentions but ultimately falls flat with comedy that never really soars and characters that otherwise feel only half cooked. On the positive, on top of her game Winslet still manages to pull off a feat of wonder of her own keeping Wonder Wheel from completely hitting the skids. Additionally, both cinematography and lighting shine thematically; but, the end result is a film that feels remarkably unimpressive even when held up against Allen's hit and miss track record. Maybe wait for a rental on this later, Wonder Wheel is rated PG-13.
Comments Off

on Wonder Wheel
Around the early 2000's two unlikely friends, Greg Sestero and Tommy Wiseau (Dave Franco, James Franco) would meet whilst studying the craft of acting; determined to make it in Hollywood the two would move to L.A. in search of work only to find closed doors and little hope. Despite the odds, and driven by Tommy's eccentricity as well as his mysteriously bottomless wallet, the two (mainly Tommy) would go on to create "The Room" a film that has since been dubbed the Citizen Kane of bad film. The Disaster Artist is a biopic recreation of this cinematic mark in history, Oh, hai Mark!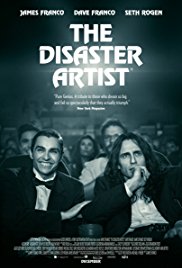 Directed by James Franco with a screenplay based on Greg Sestero's book "The Disaster Artist: My Life Inside The Room, the Greatest Bad Movie Ever Made" this passion project of epic proportions lovingly details the insanity and events surrounding one of Hollywood's most enigmatic productions in recent day– a film that has ignited new love in the midnight screening world (think Rocky Horror Picture Show). The end result is a painfully hilarious and oddly complex drama centered around friendship, perseverance, and the American Dream; James Franco's vision and re-telling of events casts an amazing glow upon the dream of filmmaking, the blood, sweat, and tears necessary, and, in this instance, the mythic Tommy Wiseau. Supported by a wildly comedic and well metered ensemble The Disaster Artist has the DNA, pedigree, and markings of a Hollywood contender as we roll closer to awards season. Do not miss this film, furthermore, be sure to sit through the end credits, all of them, The Disaster Artist is rated R.
Comments Off

on The Disaster Artist