Archive for December 1st, 2017
Around the early 2000's two unlikely friends, Greg Sestero and Tommy Wiseau (Dave Franco, James Franco) would meet whilst studying the craft of acting; determined to make it in Hollywood the two would move to L.A. in search of work only to find closed doors and little hope. Despite the odds, and driven by Tommy's eccentricity as well as his mysteriously bottomless wallet, the two (mainly Tommy) would go on to create "The Room" a film that has since been dubbed the Citizen Kane of bad film. The Disaster Artist is a biopic recreation of this cinematic mark in history, Oh, hai Mark!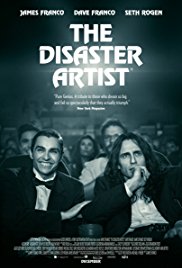 Directed by James Franco with a screenplay based on Greg Sestero's book "The Disaster Artist: My Life Inside The Room, the Greatest Bad Movie Ever Made" this passion project of epic proportions lovingly details the insanity and events surrounding one of Hollywood's most enigmatic productions in recent day– a film that has ignited new love in the midnight screening world (think Rocky Horror Picture Show). The end result is a painfully hilarious and oddly complex drama centered around friendship, perseverance, and the American Dream; James Franco's vision and re-telling of events casts an amazing glow upon the dream of filmmaking, the blood, sweat, and tears necessary, and, in this instance, the mythic Tommy Wiseau. Supported by a wildly comedic and well metered ensemble The Disaster Artist has the DNA, pedigree, and markings of a Hollywood contender as we roll closer to awards season. Do not miss this film, furthermore, be sure to sit through the end credits, all of them, The Disaster Artist is rated R.
Comments Off

on The Disaster Artist