Archive for April 20th, 2018
Relegated to a life of insecurity and feeling ashamed of her body, basement office worker Renee (Amy Schumer), finds herself with a new boost of confidence and the gusto to seize the world on her own terms. And, to her credit, the new confident Renee is a successful woman, climbing the corporate ladder at Lily LeClaire makeup. But, failure is just one slip away, and, if she falls will Renee learn the important lesson– she's had the power all along?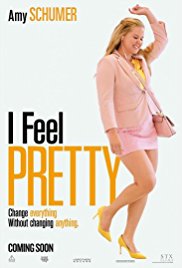 Written and Directed by Abby Kohn and Marc Silverstein this message movie about empowerment and love thy self appears to have all the best intentions but lacks subtlety in its delivery to really check all the boxes of quality. Schumer herself is a perfect foil for this comedic Oz-like tale, and, support from Michelle Williams and Lauren Hutton fit their required caricatures nicely. Still, the overall camp factor remains high throughout this thoroughly telegraphed screenplay. Clocking in with an hour and fifty minutes of run-time, welcomes are overstayed by at least few minutes, which frankly, comes as no surprise given the overall kitchen sink approach to the storytelling. Perhaps still worthy as a matinee with the intention as a moderate chuckle inducer or as a conversation starter between parents and tweens, I Feel Pretty is rated PG-13.
Comments Off

on I Feel Pretty