Archive for May 18th, 2018
Edgy and irreverent, Wade Wilson/Deadpool, (Ryan Reynolds) finds himself in the odd predicament of having to protect a young mutant named Russell (Julian Dennison) from a strange and unusual foe, a time traveling mercenary from the future, Cable (Josh Brolin). Mildly outmatched, Wade assembles a team of unique mutants, the X-Force, to get the job done. Will Deadpool, Domino (Zadie Beetz), Negasonic Teenage Warhead (Brianna Hildebrand) and the rest of the X-Force have what it takes to make their mission a success, or will they all end up blown to bits? And, what about the love of Wade's life, Vanessa (Morena Baccarin), Fighting crime and maintaining a family is a tough balance, can he have it all?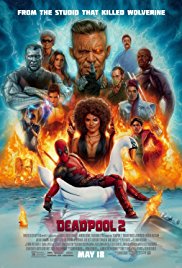 Directed by David Leitch and Written by a small army of maliciously funny individuals, Deadpool 2 does exactly what you'd want it to do, cut to the bone with snarky humor and a perfectly offensive non-discriminant edge; break the fourth wall and address the audience at inappropriate but perfect moments; slay the Marvel Cinematic Universe with the talents and sinister eye of an internet troll; and, watch the world burn. That is to say, if you loved Deadpool, You'll love Deadpool 2. This go round choreography and cinematography are impressively staged and visually compelling. Ensemble wise the film holds up surprisingly strong, and, cameo's from a number of unlikely Hollywood suspects add a handful of additional laughs. A slightly more complex story also keeps the film from becoming a total re-tread. It's humor at its darkest and sometimes most cathartic, no expense has been spared, and oh, stay all the way through the credits, because yes, end credits in the MCU are always special, this is no exception. Deadpool 2 is rated R, and for good reason.
Comments Off

on Deadpool 2