Archive for June 8th, 2018
Released from five years in prison, con artist Debbie Ocean (Sandra Bullock) has had ample time to plan out the perfect heist; the job to end all jobs, settle scores, and perhaps even retire by, a perfect crime at New York's Met Gala. Aiding her are friends, colleagues, and partners in crime Lou, Rose, Amita, Nine Ball, Constance, Tammy and Daphne (Cate Blanchett, Helena Bonham Carter, Mindy Kaling, Rihanna, Awkwafina, Sarah Paulson, and Anne Hathaway). But, planning the perfect crime and committing the perfect crime will take expert precision, is this the team to actually get the job done?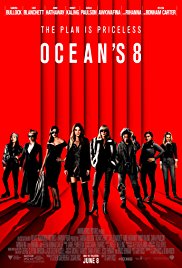 Directed and partially written by Gary Ross, this rollicking heist flick is a welcome jaunt into the summertime movie season. Heavy duty melodrama? No, not really, instead the audience gets simple fun, a few laughs, a few mild twists, and a really talented ensemble having a good time with the caricatures they're embodying. Shot and edited with 60's nostalgia flare, a tip of the hat to previous Oceans, Bullock and crew hold down the fort with tons of chemistry to drive the picture forward. And, coming in with a runtime of an hour and 50 minutes, welcome's are not overstayed. Escapism for the weekend, check! Ocean's 8 is rated PG-13.
Comments Off

on Ocean's 8