Archive for September 14th, 2018
Taking Marymoor Park by storm through Nov. 4th, Cirque du Soleil's latest show Volta roars into the big top to wow, amaze, stun, and delight with their high energy and acrobatic display. Following the story of a young boy named Waz, a wildly spirited youth in danger of being tamed and broken down to become part of the rat race, that is until Ela, the rollerskating free spirit, reminds him of his true potential. Transcending the greys to remain a free spirit will take Waz on a journey only capable from the minds of Cirque du Soleil.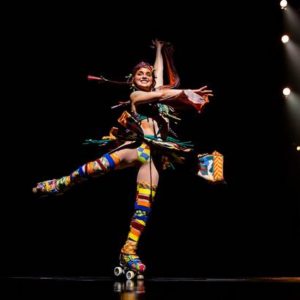 Operating a little differently than other Cirque models, the core of Volta appears to lean heavily on a single troupe of highly skilled and endurance ready acrobatic performers as opposed to many individual acts strung together to complete a show; the end result is a smaller more efficient cast with higher physical demands, an impressive lot which can only be explained by the word "Youth," one almost feels exhausted just watching the feats on display…almost. Also, a bit haphazard, the narrative structure doesn't entirely hold up or come to a strong resolution at the show's conclusion, a small quibble to be made, audiences are still in for a solid evening of live music, live action, and live art, an experience best digested in person. Tickets and more information can be found at Cirquedusoleil.com, the family is in for a treat.
Comments Off

on Cirque du Soleil: Volta
Detroit Michigan in the mid 1980's, teenager Richard Wershe Jr. (Richie Merritt) would find himself in the awkward position of being a street hustler, an FBI informant, and a massive drug Kingpin all before his 16th birthday. Meanwhile, Father Richard Wershe Sr. (Matthew McConaughey) would battle his own demons as a small time arms dealer with aspirations of opening a video rental store. It all sounds impossible, but it actually happened, this is their story.
Written by Andy Weiss, Logan Miller, and Noah Miller, Directed by Yann Demange and Darren Aronofsky amongst the list of producers, the pedigree of this film immediately makes for a point of demarcation between Summer time blockbusters and Awards Season flair; driving home a sobering story from the seedy underbelly of the rustbelt. Solid performances from the whole ensemble including work from Jennifer Jason Leigh, Bel Powley, and Bruce Dern further bring this bitter tale of woe to life. And, well thought out cinematography bathed in darkened hues by Tat Radcliffe effectively paints a vivid and indelible picture of the era. Strangely, original scoring by Max Richter comes across less impressive and the rather haphazard writing and editing of the overall story does leave the viewer craving a bit more finesse, alas, this does not spoil the picture, but does make for a few demerits. Worth catching up with at some point before the awards, White Boy Rick is rated R.
Comments Off

on White Boy Rick
Since the 1980's the universe's most lethal sport hunters, the predators, have been making appearances on Earth, hunting down the strongest and most dangerous humans alive. Now, for whatever reason, it would appear their presence is increasing. But, putting the predators back in their place to save humanity is no small task, it'll take the efforts of military badass Quinn McKenna (Boyd Holbrook), a rag tag team of other former soldiers, and science teacher Casey Bracket (Olivia Munn) to get the job done. But do they really stand a chance? I mean really?
Directed by Shane Black and Co-Written by Fred Dekker and Black this ridiculous homage to the world of Predator harkens back to the insanity of 80's action films ripe with impossible fight sequences, gallons of blood, massive body counts, a modicum of bad CGI, a smattering of pithy humor and witty comebacks galore. Ensemble wise, notable work from all makes this breezy hour and 47 minutes whiz by. All In all, it's a blast; from the outset the film delicately stomps the line of taking itself seriously, often dipping its toe in the goof pool as if to remind you this potential train wreck of a concept is actually fun. And there's the meat of it, a film made with no delusions of grandeur but rather a film made for fun and entertainment, kind of like Saturday morning cartoons, but for big kids now. The Predator is rated R.
Comments Off

on The Predator