Archive for December, 2018
Beaten within an inch of his life, a wildly talented artist, Mark Hogancamp (Steve Carell) gains the mental strength to overcome his greatest fears and anxieties through artistic expression, more specifically, action figures posed in an imaginary WWII Belgian village known as Marwen. In Marwen, Mark's closest friends, confidants, and protectors are all women, which happen to also be women of significance in Mark's real life (Leslie Mann, Janelle Monae, Stefanie von Preteen, Merritt Wever, Leslie Zemeckis, and Eiza Gonzalez). It'll take the power of his strong women to pull him through his darkest hours, will he ever manage?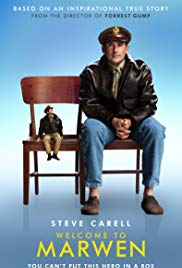 Written by Robert Zemeckis and Caroline Thompson and Directed by Zemeckis, this visually compelling re-enactment and embodiment of life with PTSD from the artist's perspective makes for an interesting and endearing case study of the human mind. However, past the first act and the film's initial shock and awe of transitioning from Marwen to the real world and back, somehow the magic seems to run out leaving our female heroes to sit in their archetypes and do relatively little, and likewise Hogancamp just as enigmatic as ever, bummer. What initially appears to be something akin to Thurber's Secret Life of Walter Mitty sadly more so resembles a scribbled idea on a napkin needing further fleshing out and emotional development. Best considered a rental later. Welcome to Marwen is rated PG-13.
Comments Off

on Welcome to Marwen
Holly Burns (Julia Roberts) is taken aback, stunned, and disoriented when her oldest son, Ben (Lucas Hedges), turns up at home for Christmas. Trouble is, Ben is a recovering addict and supposed to be in a rehab program; now home he's insistent upon his good health, but old triggers are everywhere and new stresses behind every door. How will life reconcile matters?
Written and Directed by Peter Hedges, this emotional journey of desperate people in desperate situations is the grounds for strong and honest performances from the entire ensemble, save for some of the convenient plotting shenanigans that beat the heart of act II. Looking to the seedy underbelly of American addiction, Director Hedges offers up a frighteningly accurate but condensed view of the world, which, while not exactly the fare for holiday fun times, it most certainly is a reality to those who've seen it with their own eyes; this may be hard subject material to digest. None the less, for drama power alone, this film deserves your attention, perhaps as a matinee or at the very least a rental later this winter when available. Ben is Back is rated R.
Comments Off

on Ben is Back
Following the death of her husband, the Dauphin of France, Mary Stuart (Saoirse Ronan) Queen of Scotland returns home to lead her people to religious freedom and hopefully a united Scotland and England; but, cousin Elizabeth I (Margot Robbie) and her council have thoughts otherwise. Staying steps ahead of her opponents will be a match of wits and military intelligence, how exactly will she stay in the game, and for how long?
Directed by Josie Rourke and Written by Beau Willimon and John Guy, this biopic recounting of history no doubt takes some liberties with the actual events depicted but none the less makes for an interesting shelf mate to Yorgos Lanthimos's The Favourite, although from a significantly less humorous perspective. Performances from both Ronan and Robbie are inspired, as if 2018 wasn't already overstuffed with strong female performances, here are two more to add to the pile. Notable care and attention to production design and costuming make this smorgasbord for the eyes even more complete; and, running two hours and four minutes welcomes are not overstayed. Worthy of your matinee dollar and attention, Mary Queen of Scots is rated R.
Comments Off

on Mary Queen of Scots