Archive for March 22nd, 2019
The Wilson family vacation takes a dark turn when Adelaide, Gabe, Zora, and Jason (Lupita Nyong'o, Winston Duke, Shahadi Wright Joseph, and Evan Alex) encounter their doppelgangers. Chased, cornered and threatened, the Wilsons will have to kill or be killed, but ultimately the bigger questions will take more effort to answer, what do these dark twins want, and where are they coming from?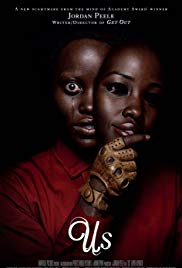 Written and Directed by Jordan Peele, this sophomore submission strikes hard with a concept that hearkens back to concepts of The Twilight Zone or The Outer Limits and works hard to create interesting and three dimensional lead characters in act I. Lively and quipy dialogue keeps makes our introduction fun and reasonable before the inevitable terror begins to strike in Acts II and III. Meanwhile, a handful of hat tips in homage to influencing horror and suspense films are lightly peppered throughout adding a wink and a nod to those in the know. Unfortunately, perhaps not as messaged and politically on point with subtext as 2017's Get Out; what starts out and holds potential to really send a haunting message instead feels a bit less developed and more of a draft. None the less, great performances from the ensemble and a killer soundtrack to boot, this old-school influenced thriller bounces from start to finish. Jordan Peele for the win this weekend! Us is rated R.
A mid 50's insurance agent, living in L.A., and divorced for nearly 12 years, Gloria Bell (Julianne Moore), is in search for connection, love, and romance through a series of extroverted life experiences. Meanwhile, her adult children, Peter and Veronica (Michael Cera and Alanna Ubach), are starting their own lives, in some ways mirroring a familiar past. Learning how to love, let go, and un-merge will take careful attention; and, deciphering the strange new love interest, Arnold (John Turturro), may get dodgy as well.
Directed by Sebastián Lelio, and Written by Alice Johnson Boher and Sebastián Lelio, this tour de force for Moore serves as the perfect foil to demonstrate her depth and range as a dramatic artist in what might otherwise be a banal life story; instead, Moore's color and emotion percolates perfectly, not only in her spoken word but also in the silence of her actions, furthermore, Lelio's pacing forces the audience to "sit" with Gloria in order to really feel her experience. The beauty of Gloria also comes in the aesthetics of light, color, and music throughout the picture, this art-house pic clearly has a feel for authenticity and true to life experience. Looking for that genuine and relatable view into the life of another, you've found it. Gloria Bell is rated R.
Comments Off

on Gloria Bell